Turkish Airlines has signalled its intent to add two ultra-high-density Boeing 777-300ERs to its fleet as part of a wet-lease deal with codeshare partner IndiGo.
IndiGo began services with a wet-leased Turkish Airlines 777-300ER – featuring a standard cabin – on 1 February, marking the Indian low-cost carrier's first foray into widebody operations. The wet-lease deal will last for one year, with the first aircraft operating on the Istanbul-Delhi route that both carriers already serve.
The initial airframe – TC-LKA – is a 12-year-old General Electric GE90-powered example that was originally operated by Kenya Airways but transferred to Turkish Airlines in 2016 through lessor CDB Aviation. It features 28 business-class and 372 economy-class seats.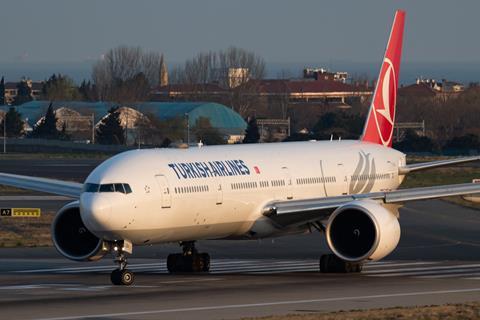 But Turkish Airlines says that aircraft will later be replaced by one of two ultra-high-density 777-300ERs that will be joining its fleet. They will feature seven seats in business class and 524 in the economy cabin. The second ultra-high-density 777-300ER will operate the Istanbul-Mumbai route for IndiGo, as part of the same wet-lease deal.
According to Cirium fleets data, only four 777-300ERs exist with that ultra-high-density configuration. All of them are in storage, having previously flown for Russian carrier Azur Air and its sister company Azur Air Ukraine. Two are owned by Aercap, one by Air Lease and one by Castlelake.
Turkish Airlines has not confirmed from where it will source the aircraft.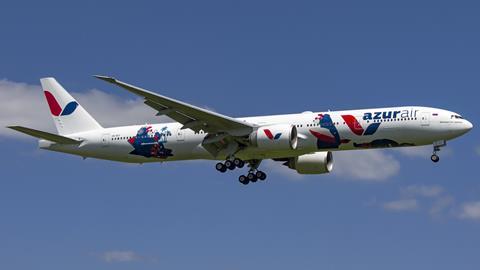 The 777 seating configurations significantly increase IndiGo's capacity on both routes, with Cirium schedules data showing it was offering 222 seats on its Airbus A321-operated flights in January.
Turkish Airlines also offers daily connections to both Indian cities with a 777-300ER, Cirium data shows.
Both carriers will sell seats on the wet-leased aircraft; Turkish Airlines selling across the two classes, with IndiGo selling only economy tickets. Turkish Airlines emphasises that its own cabin crew will serve business-class passengers, offering the airline's usual service package for that cabin.
IndiGo had previously explained that its was seeking to secure wet-lease capacity amid supply-chain issues that meant it needed to look at "different ways and means to make sure we have the capacity to operate".
Elaborating on the rationale for the agreement, IndiGo said that it would "enable us to better utilise our A321 narrowbody fleet to continue our network deployment".
IndiGo and Turkish announced a codeshare partnership in November last year.