United Airlines has no plans to acquire narrowbody aircraft in the 100-130-seat class – a category filled by jets like the Airbus A220 and Embraer E-Jet family.
Scott Kirby, the carrier's chief executive, is clear that larger narrowbody jets, not smaller, will anchor United's future fleet. "We are not in the marketplace today for jets that seat 100 to 130 passengers," he says.
Instead, the airline on 29 June unveiled orders for a combined 270 Airbus and Boeing narrowbodies, including the largest variants of those single-aisles – the A321neo and 737 Max 10.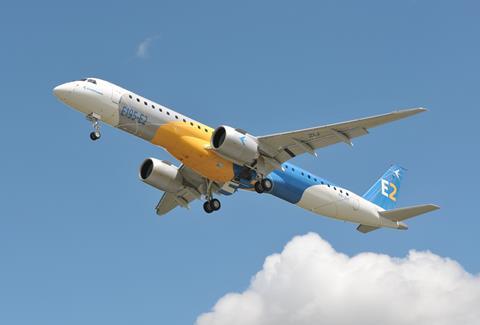 In the years before the coronavirus pandemic, United executives had said the airline was considering an order for 100-seat aircraft, specifically an E-Jet variant, an A220, or possibly the slightly larger 737 Max 7, which can carry about 138 seats in two classes.
But Kirby's comments – and United's order – leave little doubt the airline is moving to larger jets. In addition to purchasing the 270 new narrowbodies, United intends to operate only 100 50-seat jets in the coming years, down from 300 in 2019.
The airline will replace those small jets with the incoming aircraft, meaning the average number of seats on United's fleet will jump 30% with the changes.
Executives stress that United believes its hubs and route network can support jets with more passengers.