United Airlines has placed orders for a combined 270 Airbus and Boeing narrowbody jets, including 200 737 Max and 70 A321neos – a pair of massive deals that signal that the US airline industry is recovering from the Covid-19 pandemic.
In disclosing the order on 29 June, United also revealed plans to retire about 200 50-seat regional jets and to update the cabins in all of its narrowbody aircraft.
The fleet changes will significantly increase the size of jets in United's fleet, leaving the carrier with some 30% more seats per departure by 2026, and 75% more premium seats, it says. The carrier has also committed to equipping its jets with seat-back entertainment screens.
United's 200 Max orders comprise 150 737 Max 10s – Boeing's largest Max variant – and 50 737 Max 8s, the Chicago-headquartered airline says.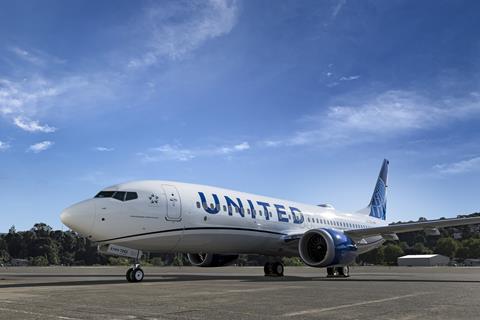 United expects to begin flying Max 10s and A321neos "in early 2023". It already has separate outstanding orders for 180 737 Max and 50 A321neos, according to airframer data. The airline now expects to receive 40 new narrowbodies in 2022, 138 in 2023, and the balance in 2024 and beyond.
The fleet changes, which the airline calls "United Next", will "revolutionise the experience of flying United as we accelerate our business to meet a resurgence in air travel", says chief executive Scott Kirby.
United currently operates hundreds of ageing A320-family jets and 737NGs, and has 30 new 737 Max 9s in service, according to Cirium fleets data. On 29 June, United took delivery of its first 737 Max 8.
Kirby says the strength of United's hubs leave the airline "well positioned" to operate additional large narrowbody jets. "Business travel and international travel… are ultimately going to come back at 100%," he says.
Though United will retire about 200 50-seaters, it will retain about 100 of those aircraft. It plans to deploy these to smaller communities, not between large cities, executives say. At the end of 2020, United's fleet of 50-seat regional jets included nearly 200 aircraft: 133 Bombardier CRJ200s and 45 Embraer ERJ-145s, according to Cirium data. But United notes that in 2019, before the pandemic, its fleet included some 300 50-seaters.
"The location of our US hubs means we're uniquely positioned to focus on premium products, business travel and global flying like no other US airline," says United chief commercial officer Andrew Nocella.
The Max 10 order marks a major win for Boeing. Analysts have called the Max 10 an economical aircraft but note it cannot match the range of Airbus's competing A321neo, which has proved a hot seller.
The Max 10 has a range of 3,300nm (6,112km) and can carry 188-204 passengers, while the longest-range variant of the A321neo – the in-development A321XLR – will have a 4,700nm range, according to Airbus. It can accommodate 244 passengers in a single-class layout.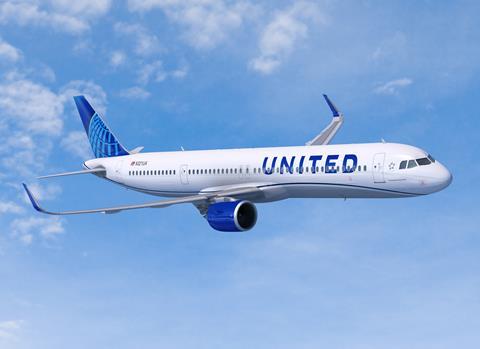 Asked why United chose the Max 10, Kirby says only that the airline is "a big believer in that fleet type".
Because A321neos are a bit bigger than Max 10s, United intends to use the Airbus jets at slot-constrained airports such as Newark Liberty International and San Francisco International. "The extra seats on the A321neo are going to be very important to our future growth plans," Kirby says.
The newly ordered jets will have a "signature interior", meaning seat-back entertainment systems, "larger" overhead bins, "the fastest-available in-flight wi-fi" and LED lighting. United expects to begin operating 737 Max 8s with the new interior this summer.
The larger bins will accommodate one carry-on bag for every passenger and will "help alleviate gate crowding and anxiety, reduce the number of gate-checked bags and decrease the time it takes to board", the airline says.