United Airlines and its regional partner Mesa Airlines have agreed to buy a combined 200 of an all-electric 19-passenger regional aircraft under development by Heart Aerospace.
Additionally, United's in-house venture capital arm United Airlines Ventures has invested an undisclosed amount of money in Sweden-based Heart.
"United Airlines has conditionally agreed to purchase 100 ES-19 aircraft, once the aircraft meet United's safety, business and operating requirement," United says on 13 July.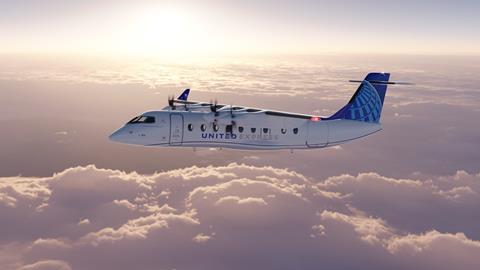 Mesa, which operates regional aircraft for United, committed to acquiring a separate 100 ES-19s, and the companies have taken options to acquire a further 100 of the aircraft, United and Heart say.
United does not say whether it put any money down as part of the agreement. The airline did not immediately respond to a request for more information.
Potential customers of in-development, next-generation aircraft can often sign up as interested buyers with minimal or no financial commitment, gaining publicity with little financial risk.
United Airlines Ventures' investment is part of a larger $35 million infusion of capital into Heart. In addition to United and Mesa, contributors of the $35 million include firms Breakthrough Energy Ventures and previous Heart investors EQT Ventures and Lowercarbon Capital.
Heart is developing the all-electric ES-19, a high-wing aircraft with four wing-mounted props and lithium-ion batteries. The developer says the ES-19 will have 216nm (400km) of range and that deliveries could begin by 2026.
United says the aircraft could operate more than 100 of its regional routes.
The deal marks another step toward next-generation technology by United, which also recently agreed to purchase a supersonic jet being developed by Boom Supersonic and an electric vertical take-off and landing air taxi under development by Archer Aviation.
Heart notes that US airlines have removed most of their 19-seat aircraft from service in recent decades, shifting to larger aircraft. But, the reduced operating costs of electric aircraft could make the 19-seat segment economically viable again, Heart says.