United Airlines plans to bring the Boeing 737 Max back into its schedule from 11 February, with departures out of its Denver and Houston hubs.
The Chicago-based carrier says on 18 December that due to ongoing public scepticism about the safety of the aircraft, it will deploy other aircraft types on the same routes as its Max, in case customers have qualms about travelling on the recently-re-certificated jet.
The aircraft had been grounded for 20 months following two fatal accidents and was only recently approved to return to revenue service.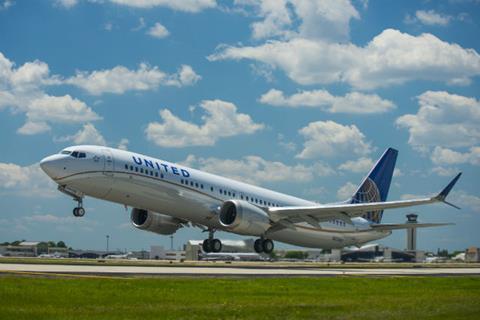 "Nothing is more important to United than the safety of our customers and employees, so United's Max fleet won't return to service until we have completed more than 1,000 hours of work on every aircraft, including FAA-mandated changes to the flight software, additional pilot training, multiple test flights and meticulous technical analysis to ensure the planes are ready to fly," the airline says.
"We will be fully transparent with our customers and will communicate in advance when they are booked to fly on a Max aircraft."
The airline adds that it will publish the schedule of Max flights and routes in early January. Any customer who feels uncomfortable travelling in the aircraft can rebook at no charge or receive a refund, the airline adds.
According to Cirium fleets data, United had operated 18 of the type prior to its grounding and has a further 166 aircraft on order with Boeing.
The Federal Aviation Administration on 18 November rescinded its 13 March 2019 "Emergency Order of Prohibition" – the document barring US airlines from operating Boeing's latest 737 iteration - after the US airframer made design modifications.
Earlier this week, Canada's civil aviation regulator "validated" Boeing's 737 Max updates, indicating it will lift the jet's grounding in January.
On 9 December, Brazilian low-cost airline Gol operated the first revenue flight following the aircraft's recertification in that country.
The first US carrier that will re-introduce the type into its regular schedule is American Airlines. The Fort Worth-based carrier will operate the aircraft on a round-trip flight between Miami and New York's LaGuardia airport on 29 December.
Southwest Airlines, the world's top 737 operator, said earlier this week that it will return the type to its schedule from March.