United Airlines may look to Boeing's 737 Max 7, the smallest member of the re-engineered 737 Max family, when time comes to retire 737-700s.
Speaking in a hangar at Newark's Liberty International airport, where the airline promoted a new aircraft order on 29 June, chief financial officer Gerry Laderman says the company might consider adding the smallest Max to the fleet in years to come.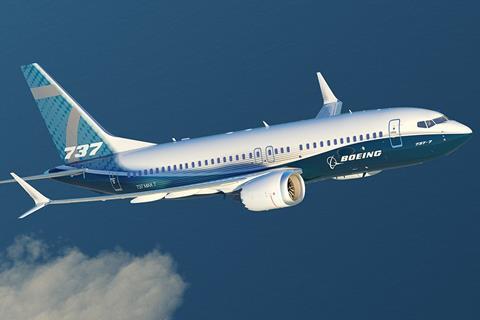 "The -700's… have certain capabilities for hot and high airports that the -800s and -900s don't," Laderman says. "The Max 7 is similar."
United remains a "ways" from retiring its 737-700s, Laderman says. But when that time comes, "the answer might be… a Max 7".
The Chicago airline on 29 June revealed an order for 200 Boeing jets – 150 737 Max 10s and 50 737 Max 8s – and 70 Airbus A321neos.
Laderman stresses that United's orders with Boeing are flexible, meaning United should have ability to adjust its orders to include different Max variants. The Max 7 has about 138 seats in two classes.
"With the [Max], we've always had the ability, with enough notice, to change the model type," Laderman says.
United expects to begin flying Max 10s and A321neos "in early 2023". It already held separate outstanding orders for 180 737 Max and 50 A321neos, according to airframer data. The airline now expects to receive 40 new narrowbodies in 2022, 138 in 2023 and the balance in 2024 and beyond.
United operates 37 737-700s, which are 18 to 24 years old, Cirium fleets data shows.
The 737 Max 7 remains in flight testing, with Boeing aiming to begin delivering the type in 2022. The company operated the first Max 10 flight on 18 June and aims to hand over the first of that type in 2023. The Max 8 and Max 9 are in service.