United Airlines is reportedly preparing to announce a large aircraft order, possibly next week, a move that could set United on a path to replacing what is among the US airline industry's oldest fleet.
United operates a fleet of more than 800 jets, many of them decades old, but has less than 300 aircraft currently on order, meaning the carrier could need hundreds of new jets just to replace upcoming retirements.
Rumours are swirling around the Chicago-based carrier, which has scheduled an investor call and in-person media event at Newark's Liberty International airport on 29 June.
Forbes reports on 23 June that United plans next week to disclose "the largest aircraft [order] ever", citing two unnamed industry sources. The deals will reportedly include orders for both Airbus and Boeing jets.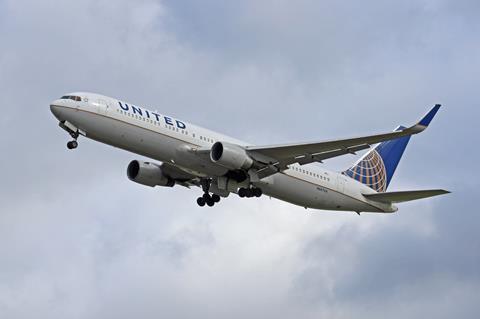 Mike Boyd, president of airline consultancy Boyd Group International, expects United may order the newest member of the Airbus family, the A220. Formerly called the Bombardier CSeries, Toulouse-headquartered Airbus bought the programme in 2018, then rebranded it.
"I would bet on an order for A220-300s," Boyd says. "[That is] flat-out the most-efficient and mission-flexible airliner out there."
But US airframer Boeing is also in "seller's mode", he adds. Boeing is likely particularly eager to land new sales because demand from China has dried up amid a trade battle.
United does not comment specifically about the 21 June report but repeats a comment made earlier this month in response to earlier reports about a potential aircraft order. At the time, media reported the airline intends to order about 200 aircraft.
"We do not currently have a deal in place with Boeing or Airbus to purchase new aircraft and do not comment on speculative aircraft orders," the airline says.
Helane Becker, an aviation analyst at Cowen, writes in an analyst note dated 23 June, "We would not be surprised to see United unveil a new aircraft." She adds that the event next week will also serve to make "some announcements related to new routes out of the local market" as well as other strategy decisions.
"We also would not be surprised to see them place another electric aircraft order," Becker says.
OLDEST FLEET
According to Cirium fleets data, United operates 850 aircraft, including those in service and storage, with an average age of 16.4 years. In contrast, US major airline competitors Delta Air Lines' and American Airlines' fleets are an average of 14.8 and 12 years old, respectively.
US low-cost and ultra low-cost carriers tend to have the youngest fleets. JetBlue Airways' fleet is 11.4 years old on average, Spirit Airlines' is 6.8 years old and Frontier Airlines' fleet is 4.2 years old. Allegiant Air, known for operating older jets, has a fleet that is 14.7 years old, on average.
United has 275 aircraft on order from both Airbus (95 aircraft) and Boeing (180 aircraft). These include 45 widebody A350-900s and one 787-10. Narrowbody orders include 50 A321neos, and 179 jets from the 737 Max family.
The airline also has 129 aircraft on option from the two companies.
The carrier also said earlier this month it agreed to purchase 15 of Boom Supersonic's in-development faster-than-sound airliner Overture, with options for 35 more. That jet is scheduled to have its first flight in 2026 and begin to carry paying passengers in 2029.
United's current narrowbody fleet includes 128 A320-family jets and 364 Boeing jets, among them 30 Max 9s, 295 737NGs and 39 757s, according to Cirium fleets data.
Nearly half of United's 737NGs are at least 20 years old, while its 757s range between 17 and 26 years old. The carrier's A320-family jets have an average age of 22 years, according to Cirium data.
United Airlines' fleet (in service and storage)
Type
Number in fleet
Average age
A319
94
19 years
A320
99
23 years
737 Max 9
30
2 years
737-700
53
21 years
737-800
141
17 years
737-900
148
9 years
757
72
23 years
767
54
24 years
777
96
18 years
787
63
4 years
Total
850
16.4 years
Source: Cirium fleets data
With the airline shifting focus to the leisure traveller market, which rebounded from the coronavirus crisis faster than initially expected, the airline is offering more point-to-point routes to augment its hub-and-spoke strategy. That could require more smaller aircraft to connect secondary cities more frequently.
The airline has scheduled an investor call for 1300 GMT (0800 local time) on 29 June.