American Airlines Group is assigning six more Embraer 175s to subsidiary regional airline Envoy Air.
The Texas-headquartered carrier said on 14 March that the incoming aircraft, set to be delivered "in coming months", will bring its fleet of E-jets to 134 aircraft – 107 E175s and 27 E170s.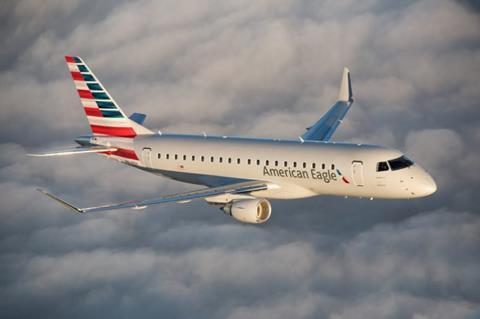 Envoy also operates 22 ageing 50-seat ERJ-145s, all of which are approaching 20 years old, according to Cirium fleets data.
"As we transition away from the E145 and focus on our large [regional jet] operation, American continues to invest and have faith in Envoy's ability to offer safe, reliable and cost-effective service to its customers," says Dee Temples, Envoy senior vice-president of air operations. "Envoy has invested significantly in the resources and infrastructure needed to support our Embraer E-Jet fleet, and deliver outstanding service to American's customers."
Envoy is one of three regional carriers that operate flights on behalf of American, including Maryland's Piedmont Airlines and Ohio-based PSA Airlines.
It is unclear from where American will source Envoy's incoming six E175s, and the airline did not immediately respond to a request for more information.
American's fleet of regional jets is underutilised, chief executive Robert Isom said on 14 March during JPMorgan's 2023 Industrials Conference.
"At American right now, we probably have 30 to 50 mainline aircraft that are underutilised and probably still 150-plus regional aircraft that are essentially on the ground," he says. "That is capacity that we have the resources – with gates and in some cases even the people on board – to be able to put back up in the air."