Vietnamese low-cost carrier VietJet Air has confirmed it will lease up to three Airbus A330s, as part of fleet development plans "to better meet travel demand" in the future.
The first of the three aircraft will arrive in November, says VietJet, which disclosed the commitment on 5 November, at the signing of a strategic agreement with Airbus.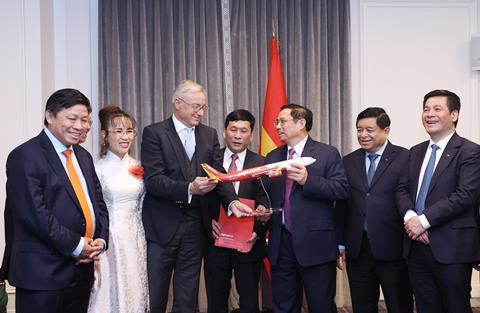 However, it did not state where it is leasing the jets from, or where it intends to operate them on, and would only say that the aircraft forms part of its "widebody fleet development plan under its [low-cost carrier] model operation".
VietJet managing director Dinh Viet Phuong adds: "I believe that the add-on of the A330s will surely enhance our fleet's technical reliability, operational efficiency and flight range to better meet travel demand of our flyers in the coming time."
The airline first alluded to widebody plans on 31 October, when it signed with a $400 million deal with Rolls-Royce for Trent 700 engines, which power A330 aircraft, a type that VietJet has not operated before.
Prior to that, there had been media reports that the carrier was eyeing an A330 order, but VietJet did not publicly confirm nor deny these reports.
With Airbus, VietJet also firmed up the delivery timeline of its outstanding 119 A321neo orders, though it did not disclose further details.
Both parties also agreed to ramp up training and support for VietJet's technicians and engineers, as well as the development of the carrier's flight training academy.
"The agreement also covers a variety of other aspects such as aircraft's equipment supply and services, comprehensive aviation training, consultation, and development of MRO facilities for VietJet and in the region together with other initiatives for fuel efficiency and sustainable development," the carrier states.
The signing of the strategic agreement with Airbus took place on the sidelines of an official visit to France by Vietnamese prime minister Pham Minh Chinh.
It also comes a day after the low-cost carrier inked a $10 billion "comprehensive strategic partnership" with French aerospace company Safran, which builds on their existing relationship involving CFM engines.