European carrier Volotea could add four further Airbus narrowbodies to its fleet this summer after completing the withdrawal of its Boeing 717 fleet.
Volotea has operated 717s since launching flights in 2012, but began bringing in Airbus A319s in 2016 after opting to replace the Boeing jets with used narrowbodies from the European manufacturer. The company says it had originally been aiming to complete the renewal by 2023.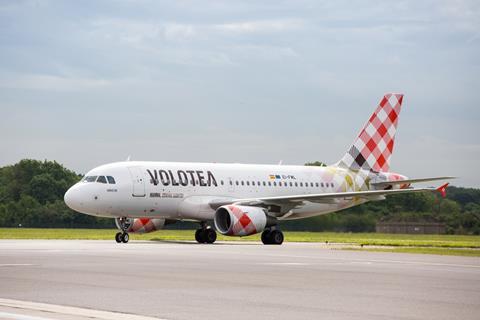 Under accelerated plans the carrier has completed the withdrawal of 14 717s and replaced them with 15 A320-family aircraft. It says it has flexibility to add four more of the type if demand warrants them. It would take to 35 to 39 the number of aicraft, all Airbus narrowbodies, it would operate this summer.
While traffic has been hit by the pandemic, Volotea passenger numbers and capacity were down by less than half in 2020 driven by a strong performance in the third quarter. The Barcelona-headquartered carrier, which handled 3.8 million passengers last year, operates largely across French, Italian and Spanish markets.
Volotea president Carlos Munoz says: "We are very proud to be moving to a 100% Airbus fleet. As a European airline, we are very excited to be able to count on Airbus as a long-term partner to our fleet.
"We will continue to grow thanks to our strategy of connecting small and medium-sized European cities with each other with a more modern and competitive aircraft model, the Airbus A320, which offers 20-25% lower operating costs than [our] previous Boeing 717s. This increased competitiveness will be highly needed in the post-Covid context of the coming years, where less demand is likely to occur."
He adds: "This change will also allow us to be in the best position to seize in advance new great opportunities such as the one created in Spain, through the acquisition of Air Europa by Iberia [parent IAG] and in France, where the restructuring of the regional market is under way."
Under a provisional agreement struck with IAG prior to the crisis, Volotea was set to open at least two, and up to four, bases in Spain in order to pick up routes through slots transferred from either Iberia or Air Europa as a mitigation for securing competition approval. IAG put that acquisition ice last year but, having agreed fresh terms, it hopes to close the purchase in the second half of 2021.
Article updated to clarify Volotea would operate a fleet of between 35-39 this summer