While twin-aisle demand remains depressed due to the pandemic, Airbus has detailed an ambitious plan to boost A320neo-family output to 75 jets per month. But can its supply chain cope with such a rapid acceleration?
Faced with a backlog for the A320 family that as of the end of April was within touching distance of 6,000 aircraft, Airbus has a problem.
Sure, it is a problem born of success, but a problem nonetheless: how does it deliver all those aircraft to customers in a timely fashion?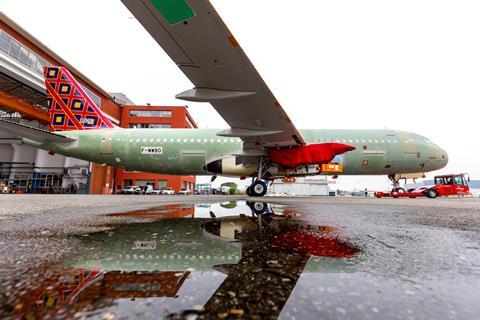 If Airbus builds 50 of the aircraft per month, it would take almost 10 years to fight through the backlog, and even at rate of 65 – due to be attained by mid-2023 – that only drops to seven and a half years.
While not all those orders will complete – there may well be further cancellations down the road – the broader air travel market, particularly for short- to medium-haul traffic, is recovering.
Higher fuel prices are also driving a switch to new-generation aircraft that fly more frugally. And the febrile recovery in long-haul seems to be spurring demand for long-range narrowbodies such as the A321XLR.
Based on those metrics, Airbus clearly sees market demand as supporting its decision for even higher production rates. Accordingly it has taken the decision to advance the thrust levers, confirming a plan to take monthly output of the A320neo family to 75 aircraft – or 900 per year – by 2025.
But the airframer's single-aisle backlog is lopsided these days: where once the A320 ruled, now the larger A321neo is king. In fact, almost 60% of the orderbook – or 3,447 aircraft – is for A321neos. This is a problem, as not all the airframer's final assembly lines can currently build the largest of its family members.
Internal reconfiguration is under way to change that – along with a further expansion by mid-2025 at the company's site in Mobile, Alabama – as is a reshaping of Airbus's aerostructures units in France and Germany to better support its own operation.
However, there are limits to what the airframer can do on its own – it needs the rest of the supply chain to move in lock-step with it in order to achieve those higher rates without encountering production snarls or shortages.
But the aerospace recovery is not uniform. The tier ones are mostly coping, but further down the supply chain there are companies that weathered Covid-19 less well. Shortages of staff, parts – castings and forgings for engines, notably – and raw materials are all reported. On top of this, there is rising inflationary pressure.
Airbus says it has canvassed its supply chain about the future rate rise, but it remains to be seen how well it will cope, particularly as Boeing will also be increasing output of its 737 Max family simultaneously. The nightmare scenario is a return to the sight of 'gliders' – completed aircraft without engines – cluttering Toulouse or Renton.
It is also worth remembering the fragility of the recovery – Covid-19 has not gone away; Russia's invasion of Ukraine has sent problems rippling outwards; and a recession in large parts of the global economy cannot be ruled out. Airbus's suppliers will not thank it if output is accelerated, then later sharply yanked back in the face of tepid demand.
In a sense, Airbus is damned if it does, and damned if it doesn't: it cannot sit on that enormous backlog forever. But its bold move to push production to 75 jets per month is very clearly not without its fair share of supply chain risk.