Boeing's calamitous 2019 led to the company's commercial aircraft sales plummeting almost 44% from the previous year to just over $32 billion, while rival Airbus saw revenues from airliners increase by over 14%.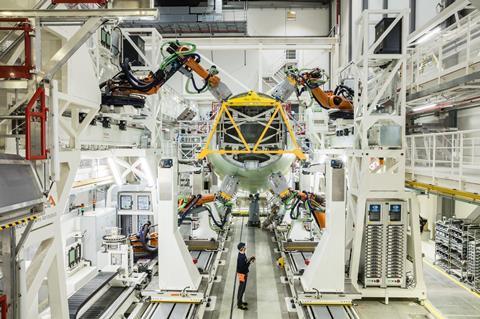 It meant the European manufacturer – which also has defence & space and helicopter divisions – record not far short of twice the revenue of its transatlantic rival, at $61.3 billion compared with $32.3 billion.
For a company that a decade or so ago was vowing to lessen its dependence on commercial aircraft, Airbus's sales remain highly skewed to airliners. That $61.3 billion represents some 77% of group turnover. For Boeing, the proportion was just 42%, although that was down to the decline in commercial aircraft sales prompted by the 737 Max grounding.
Commercial aircraft sales
Rank
Company name
Commercial sales $ millions
Commercial sales growth
1
Airbus
61,300
14.2%
2
Boeing
32,300
-43.9%
3
Gulfstream
9,800
15.9%
4
Bombardier (business aviation)
5,420
8.5%
5
Textron (including military)
5,190
4.3%
6
Dassault
2,460
-15.6%
7
Embraer (regional)
2,230
-5.3%
8
ATR
1,610
-4.0%
9
Embraer (business aviation)
1,400
26.5%
10
Bombardier (regional)
1,230
-30.1%
Embraer – which was to have transferred its commercial airliner interests into a new entity called Boeing Brazil last year before Boeing's dramatic decision to pull out of the deal – continues as the sector's third largest manufacturer, although its commercial sales were down 5.3% at $2.2 billion.
Bombardier – which this year completed its exit from the commercial aircraft market after Mitsubishi completed its purchase of the CRJ regional jet programmes – notched revenues of $1.2 billion from airliners in its 2019 financial year, down just over 30% on 2018. It had already offloaded the Dash 8 and CSeries to Longview/De Havilland Canada and Airbus respectively.
The business aviation manufacturers, with the exception of Dassault, had a good year in 2019. Gulfstream, blessed with a relatively new product range, dominated with sales of $9.8 billion, a hike of almost 16% on the previous year. Bombardier followed with $5.4 billion sales for its Global, Challenger and Learjet ranges – now the Canadian company's entire aerospace activity – up 8.5%.
Textron – behind the Cessna, Citation and King Air brands – was close behind with $5.2 billion revenues, although it is impossible to separate its business and general aviation turnover from military sales. The Wichita manufacturer enjoyed sales growth of 4.3%.
Dassault saw sales from its Falcon business jets fall 15.6% to $2.5 billion, although this was compensated by healthy returns from its Rafale combat aircraft and other defence activities, which saw it squeeze into the top 20 biggest companies in the overall ranking.
ATR – the Airbus and Leonardo-owned airframer that makes two variants of the same regional turboprop design – continues to dominate that niche, although it saw revenues slip 4% to $1.6 billion.
Top 100 aerospace companies ranked by revenue
1

2

3

4

5

Currently reading

Airbus increases the gap in commercial revenues over Boeing

6