One year ago, 13-year-old Makayla Smith's eyes lit up as she stepped into an Orlando hotel ballroom. Before her lay a world of aerospace engineering wonders.
It was "Girls in Aviation Day", an initiative sponsored by Women in Aviation International (WAI), that aims to give eight- to 17-year-olds hands-on experience in science, technology, engineering and math (STEM).
In a few short hours on that Saturday in March 2020, Makayla and hundreds of other girls would learn more about those disciplines than they had in their lives to date.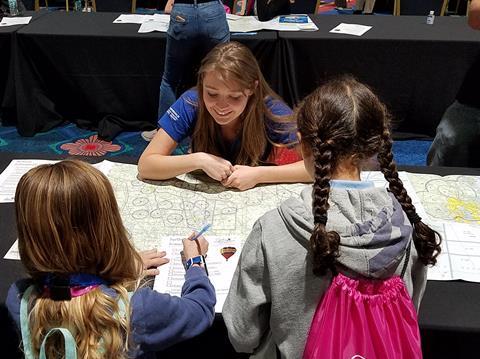 WIA, a global non-profit entity working for the advancement of women in the aviation industry, holds several such events every year. The organisation strives to make the subjects accessible to this demographic with the hope that more than a just handful of participants will pursue related careers.
At stations around the hall, attendees could indulge in lessons from across the spectrum of aviation, technology and science. They learned about the aerodynamics of helicopters. They built robots, flew virtual-reality simulators, deciphered aviation sectional charts, tested paper-airplane designs – and even mixed their own lip gloss.
"This exposes kids to stuff they don't see every day," said Tamara Payne, a teacher who brought 90 students to the event. "They don't know yet that they can do any of this as a job. And at this age, it's critical to show them."
Allison McKay, WAI's chief executive, agrees. She spends her days trying to figure out how to draw more women into technical fields like aviation and aerospace, and appealing to the industry to invest in them.
The key, she says, is to start empowering girls when they are young.
"Right around middle school is when girls perceive themselves as having less aptitude in the sciences and technology than their male peers," she says. "So it's vitally important to keep them engaged as they make the choices that will lead to their careers."
With 12,000 members, WAI is the world's largest interest group for women pursuing aviation as a hobby or career, not only in the cockpit, but also in maintenance, air traffic control, military and engineering roles.
According the Society of Women Engineers (SWE), a group that focuses on supporting women in engineering and technology, only about 13% of engineers are female. While that is higher than the percentage of women in commercial pilot roles (5% according to the US Federal Aviation Administration), it is nowhere near the parity to which the industry aspires.
In the past decade, though, female interest in engineering and computer science majors at universities has risen, SWE says. But women still lag far behind their male peers when it comes to actually following such a career. In 2019, about 27% of men expressed interest in an engineering career, compared to 7% of women.
Among the types of engineering degrees awarded to women in 2018, aerospace engineering does not even make the top 10, SWE adds.
Even after the aerospace industry has spent decades trying to alleviate the gender imbalance, it still struggles to find a winning formula.
"We haven't been able to move the needle," says Boeing's Sara Bowen, vice-president of global equity, diversity and inclusion.
STRUCTURAL CHALLENGES
WAI's McKay cites serious structural challenges that remain difficult to solve.
Those include a meagre candidate pipeline, resulting partly from ill-equipped school career counselors who do not effectively guide students toward pursuing engineering and aviation dreams.
After university, many women say they encounter an often-hostile corporate culture full of unconscious bias, gender stereotypes and sub-optimal leave policies. At these companies, commitments from top managers to improve the imbalance can often be lukewarm at best, and appropriate role models remain few and far between, McKay adds.
Major players Bell, Boeing, Gulfstream, Pratt & Whitney, Raytheon, France's Safran, Singapore's ST Engineering, and the United Arab Emirates' Strata have all pledged improvements.
"There are lots of examples of industry actors making a concerted effort to really reach out to the underserved communities, to show that there is a great career path for them if they take interest in those engineering professions," McKay says.
Savannah-based business jet maker Gulfstream says less than 20% of applications for engineering roles are submitted by women. "The biggest barrier we see is getting women to even apply," says Vicky Britt, a member of the company's diversity and inclusion council.
Engine-maker P&W says its outreach programme encourages employees to volunteer to bring STEM awareness and education to schools, partnering with educational groups like FIRST Robotics and Girls Who Code.
P&W has also partnered with Paradigm for Parity, a coalition of business leaders dedicated to addressing the corporate leadership gender gap, and has committed to gender parity in leadership positions by 2030.
Boeing's female population is about 23%, roughly in-line with the overall aerospace industry's figure of 24%, Bowen says. But that industry-wide figure often skews toward non-technical and non-executive roles like human resources, marketing and general administration. The actual percentage of female engineers is lower.
Bowen is refreshingly honest about issues the Chicago-based airframer and the industry overall face in addressing gender diversity.
"There are already fewer women in STEM than men. And the women that are in STEM tend to go into medicine, biology, bio-tech – those kinds of things, but not aerospace. When you look at the aerospace pool, it's significantly lower than STEM generally. So that's one issue – the pipeline challenge," Bowen says.
Armed with a degree and once in the workforce, new problems arise. Retention of female engineers who want to make their way into top management is an industry-agnostic problem, but in aerospace seems particularly acute.
Of the small number of women who embark on STEM careers, only 30% actually complete degree programmes, SWE says. And only 30% of women who earn bachelor's degrees in engineering still work in that field 20 years later.
"Inclusivity is the root and diversity is the fruit," says Bell's deputy general counsel for global labour and employment Danielle Needham. "If we nurture our female employees and our diverse employees, then we create [an environment where they are] wanting to stay and wanting to do bigger and brighter and better things for Bell."
At Boeing, in the past year, 42% of internships went to women, as did 29% of promotions. Overall, 22% of new hires were women. But only 25% of board members and 14% of members on the company's executive council – a group that reports to the chief executive and has 22 members – are female.
"We know that leadership matters. We know that visibility and representation at those levels matter, and we want to get better," Bowen says.
The tipping point, she adds, is about 30%. "That's when you start to see the benefits of gender diversity. Anything lower than that – the women's voices just get overwhelmed. But at 30% or more, you start to see those real benefits."
But she and peers at other aerospace companies say achieving that level industry-wide will take years.
Safran has been among Europe's gender-empowerment leaders, setting robust objectives for the recruitment and promotion of women.
The company – a major player in aerostructures, defence systems, engines and landing gear – aims by 2023 for 41% of all recruits to be women, and for the proportion of senior managers who are female to be 16%, up from a current 13%. The management board of each Safran company is to have at least three women.
The proportion of female engineers Safran recruits annually has been growing steadily, from just under a quarter in 2018 to more than 30% in 2020.
Sceptics of recruiting targets and a fast-track for women to senior positions will point out that these initiatives have limited value unless more young women pursue engineering careers. To address that, Safran sponsors an organisation called "Elles Bougent", or "Women on the Move", which mentors female students and encourages girls to study engineering.
Safran is the first aerospace company in Europe to be recognised by a UN scheme for promoting gender equality.
Bombardier has set a goal for women to hold at least 30% of its board director seats and at least 25% of management positions. The airframer says that, as of the end of 2019, the board target, at least, had been met.
The perception of aviation being an "old boys' club", combined with inflexible policies that do not accommodate professional womens' needs as they progress in careers, can leave some female aviation workers frustrated and demoralised, even leading them to leave the industry, some women say. Outright harassment is not uncommon, they add.
Most firms say they are working to address these issues. Some have revised family leave strategies and guidelines, and established employee resource groups to support minority workers, helping them find allies and mentorship opportunities. Companies have also created internal training curricula that highlight the pitfalls of social stereotyping in decision-making.
Women and other minorities bring diversity of thought and action, they say, which benefits other employees and organisations.
"When it comes to leadership, I think there are a lot of qualities that we might consider typically female that actually work to our advantage," Gulfstream's Britt says. "The whole point is to have [diversity] so you don't take everything with a singular approach."
SISTERHOOD
US defence contractor Raytheon says it has prioritised examining bias in everyday situations, like in meetings and within performance reviews. Such issues have been flagged as needing urgent change.
"We are working to reframe thinking around what it means to be an effective leader," says Lexi Hernandez, senior director for talent development, diversity, equality and inclusion at Raytheon Missiles & Defense.
"Take, for instance, the tightrope bias. Women often find themselves balancing behaviors that historically have been considered too masculine or too feminine, each with their own negative connotations. These perceptions need to change," Hernandez says.
The tension of this "tightrope bias" – where women feel they must be more "masculine" to be taken seriously but also "feminine" to be liked – shows that corporate culture and workplace norms as they have existed for decades can feel hostile to ambitious women intent on moving up in the industry. It is also exhausting.
"I do think that these cultures have to shift so that women are seen as valuable, just like their male counterparts," McKay says. "We don't have to conform to the male stereotype, and the programmes have to be put in place so that we can feel supported, while still trying to start a family or raise a family."
As in any social group, minorities tend to look to each other for encouragement, counsel and guidance.
"One of my favorite things at Bell is the sisterhood. I mean, it's very strong. We support one another, we lift one another up and we want to see each other succeed," says Needham.
GLOBAL PROGRESS
Progress is also happening in places where at first glance it may be unexpected.
By the standards of cosmopolitan Dubai 150km away, Al Ain – a desert oasis city in the UAE – is a conservative place. A decade ago it was unusual to see an Emirati woman outside the home other than with family, and even more rare for women to have independent careers.
That is why the significance of Strata, an Al Ain-based aerostructures firm set up in 2009 by Abu Dhabi wealth fund Mubadala, cannot be overstated. Today, just over half of Strata's 700 staff are female – almost all UAE citizens. They include the majority of production workers, but also engineers and managers. A majority of team leaders and supervisors are Emirati women.
Strata, which builds composite components for Airbus, Boeing and Pilatus aircraft in a modern factory beside Al Ain airport, has pursued an aggressive strategy of both "Emiratisation" – recruiting and training locals for jobs traditionally held by expats – and creating career paths for local women in the traditionally male-dominated society.
"A key measure of Strata's success has been our ability to attract a skilled Emirati workforce," Strata chief executive Ismail Ali Abdulla says. "Gender is irrelevant when it comes to ensuring Strata has the right people to support our growth."
Lee Hui Fung, head of innovation and continuous improvement for commercial aerospace at ST Engineering, takes the sector to task on the gender equity question. But she says society as a whole must also shift to make female leaders more commonplace, rather than exceptions.
"While it is heartening to see all the positive changes that are taking place at the workplace and within the whole aviation industry, the road ahead in our journey to achieve greater gender diversity is admittedly still long," she says. "Gender diversity not only has to be promoted at the workplace – it also has to start with the family, school and society as a whole. The current family support system has yet to reach a stage that allows women to work without disruption and progress smoothly in their career."
Government programmes in Singapore, she adds, have been instrumental in providing additional support.
But meaningful systemic change is always hard, especially in large organisations with long histories and deep traditions.
"Boeing [has] been around for more than 100 years. That's more than 100 years of a culture being shaped by the majority, and the majority has been largely male and largely white," Bowen says. "Anytime you get a group that so dominates a culture, it can start to become narrower than what is possible."
She looks forward to when women truly see themselves as central to the company's culture, products, vision, mission and leadership.
"I don't think we're there yet as an industry, and I don't think we're there yet as a company," Bowen says.
Additional reporting by Alfred Chua, Jon Hemmerdinger, Murdo Morrison and Garrett Reim

Pilar Wolfsteller, Americas Air Transport Editor, is based in Las Vegas and brings a pilot's perspective to her beat. She covers airlines across the hemisphere and her interests also include future-oriented sustainable aviation technology and urban air mobility projects. Pilar began her journalism career at the global news agencies Bloomberg and Reuters, and has reported from more than 50 countries.