The launch of Team Tempest and the UK's Combat Air Strategy delivered big defence headlines at the last Farnborough air show – but what impact have factors such as the Covid-19 pandemic had in the four years since then?
Now in its £250 million ($313 million) concept and assessment phase, the nation's future combat air system (FCAS) effort involves Team Tempest partners BAE Systems, Leonardo UK, MBDA UK and Rolls-Royce, working with the Ministry of Defence (MoD) and Royal Air Force (RAF), and also in partnership with industry champions and defence bodies in Italy and Sweden.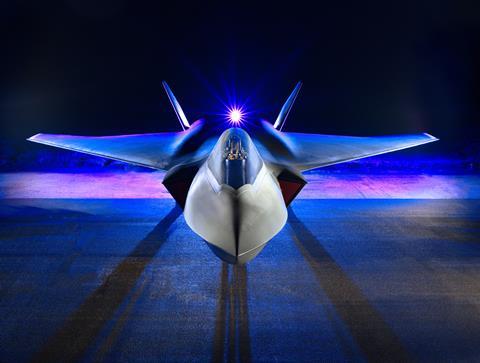 The next major milestone will come in 2024, when the programme partners submit their so-called outline business case 2 (OBC2) proposal, seeking full programme launch the following year and service introduction from 2035.
Their objective is to deliver an operational capability in half the time and at half the cost of previous combat aircraft projects.
LONG-TERM THREAT
"What we are doing through the activities around the Tempest and FCAS programme is very much driven by the future threat landscape, which is that 2040-plus view," says BAE business development director John Stocker. "The solutions and the concepts that we are developing are very much there to meet that long-term threat," he told journalists during a pre-show briefing at the company's Warton site in Lancashire.
"We have continued to iterate concept work around the core platform, and in due course will share information about some the work that has been going on," Stocker says, standing beside a full-scale mock-up of an early concept for Tempest, which, he stresses, "is not the end solution".
Other programme elements will include unmanned adjunct vehicles; kinetic and non-kinetic "effectors"; command and control/information systems; and digital through-life services.
"In terms of how we develop the evidence over the next couple of years as we go towards the OBC2 gate, we are very much focused on proving the value of the programme – not just by military capability and cost, but a broader national value assessment," Stocker says. The latter will consider factors such as net economic impact of the major investment, and its ability to support the UK government's so-called levelling up agenda, which seeks to address regional economic inequality.
BAE Systems Air chief operating officer Ian Muldowney notes the major such contribution made today via the company's role in the production, final assembly and export of the Eurofighter Typhoon. BAE says the combat air sector typically accounts for 85% of international defence sales by value from the UK each year, and supports 46,000 high-value jobs – many in the northwest and southwest of England, plus in Scotland.
"The UK is one of the last vestiges of platform whole-system capability around combat air: sensors, propulsion, airframe, flight systems and the ability to integrate all that together. That's not just about BAE Systems – that's a UK endeavour," he says.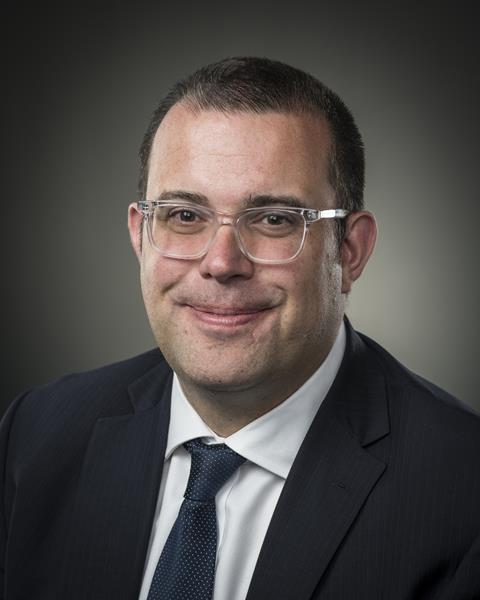 Muldowney points to the importance of the Combat Air Strategy in driving investment into FCAS and Tempest, noting: "2018 saw a statement of intent by the UK government that I had never seen before on any of our future programmes. It was clear about its objectives around the UK wanting sovereign capability around combat air – not just inside the armed forces, but across industry."
BAE did not furlough any of its Warton workforce during the pandemic, and even recruited around 100 staff who were facing redundancy from a Safran site in east Lancashire.
REMOTE WORKING
While the company increased its flexibility for workers during the crisis, including issuing "tens of thousands of laptops" to enable remote working, Muldowney notes: "You can't design and build aircraft from the kitchen table. You've got to be inside the factory to do that." Now, during the recovery, it wants to "shift from a culture of potential presenteeism to one that is about delivering outcomes", he says.
Referring to a goal of moving from full programme launch to initial operational capability (IOC) within 10 years, Muldowney notes: "We are confident we can get there with our partners and working with that enterprise approach."
But FCAS is by no means a UK-only activity – it also involves Italian and Swedish companies – and BAE is separately involved with future fighter projects with industry in Japan and Turkey.
"We are very much targeting an international programme here," Stocker notes. "Everybody is very clear that that is a really important part of how we stand up the next phases of this programme. We're making some fantastic progress on that front, in terms of how the different sets of requirements and military and industrial capabilities come together and form a core element of that future partnership."
Stocker says export control, security and intellectual property considerations are central themes under the programme's multi-national construct. "It is a challenge, and a very different way of doing things. What we are doing is developing a construct that will allow future partners to join in a way that they are not penalised for not having been there at the start."
REAL OPPORTUNITY
Referring to the strengthened military and industrial relationship between the UK and Japan, Muldowney says their collaboration on advanced fighter technologies represents "a real opportunity".
"There is a real close match on how we are working together to refine that – there is a lot of work going on," he says. Tokyo also is working with Leonardo UK, MBDA UK and R-R, respectively on radar/electronic warfare equipment, weapons, and propulsion.
"We have got to work hard collectively as a UK enterprise to make sure that from government through the MoD into industry that we are working at this in the right way, to make sure we are the right partners for Japan, and that they are the right partners for us," he says.
"MHI [Mitsubishi Heavy Industries] are working closely with us in terms of how we evolve things. It is moving in the right direction. They have got great technology, great engineers, have a drive and a similarity in terms of where we see the FCAS system going."
Meanwhile, around 100 BAE personnel are in Turkey supporting Ankara's TF-X future fighter development activity, with around a year left to run on the UK company's current contract. "It is a good programme – a very ambitious sovereign capability," Muldowney says. "There are opportunities for us to continue into the next stages of that contract, both with work in Turkey and potentially in the UK. We would like to remain partners on that programme if we can."
Typhoon production has declined over recent years, with BAE currently performing final assembly of jets for Qatar and manufacturing parts for aircraft on order for Germany, Kuwait and Spain.
"We would like to have a steady flow of Typhoon final assembly, but we have had a gap before," Muldowney notes of the period between now and FCAS work ramping up.
A new programme is key to reinvigorating the UK combat air sector, Muldowney says. "Yes, we are on [the Lockheed Martin] F-35 [manufacturing aft fuselages], which is great revenue and great volumes for UK industry, but it doesn't sustain that [whole-system] capability and doesn't allow us to maintain the scale of jobs and skills that pull through the economy that you see on the back of something like Typhoon."
However, the in-service type remains a focus of considerable activity at Warton, regarding both sustainment and capability enhancements.
One of the UK's most important current areas of focus is on preparing the fighter to receive Leonardo UK's ECRS Mk2 active electronically scanned array (AESA) radar.
A first flight-test example of the new sensor will be delivered before year-end, and Tranche 3 aircraft BS116 (ZK355) is already in the flight-test hangar at Warton in preparation to receive it.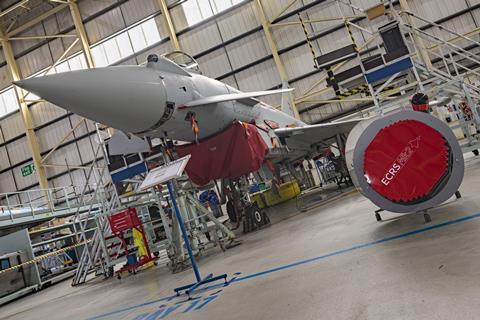 Following integration work and ground-based testing, the AESA system is due to undergo flight-testing from late 2023, the MoD says.
Ross Wilson, Leonardo UK's radar chief engineer, says the sensor is now in testing on its roof-top laboratory in Edinburgh, Scotland. "It is real, tested equipment, and we are now testing software," he says. The system re-uses some equipment previously employed during a UK trials campaign named Bright Adder.
For the test phase, a spare radar also will be supplied to Warton, plus around "six additional items" which will support work up to the IOC milestone being declared. At least two flight-test aircraft will be involved, along with personnel and additional assets from the RAF's 41 Sqn test and evaluation unit.
The MoD says service introduction – now targeted for 2030 – will represent the availability of "a robust capability… something that you can rely on and take to war".
The UK will acquire ECRS Mk2 sensors to equip 40 Tranche 3 Typhoons, with integration work expected from 2026. The technology – which also will offer electronic attack functionality – is additionally suitable for incorporation with Tranche 2 examples.
Fresh funding for the ECRS Mk2 effort is due to be approved from late this year, clearing the way for production and equipment delivery.
Separately, BAE is continuing flight testing from Warton of the P3EB capability update package for the Typhoon, along with ground trials in support of a future P3EC modification.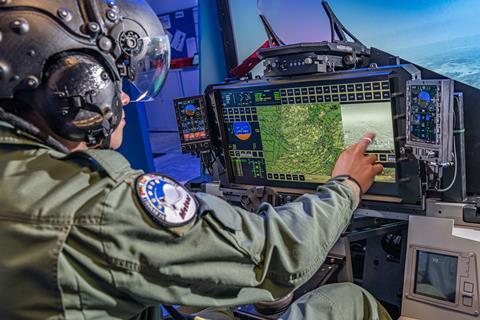 The company also is performing rig and simulator trials of a replacement cockpit display for the Typhoon, developed using internal funds. Featuring a large area display and two back-up high-integrity panels – similar in size to mobile phones – this is being proposed as part of a long-term evolution upgrade for the Eurofighter platform.
MANUFACTURING SKILLS
Among multiple other initiatives BAE is taking now to develop new manufacturing skills is its factory of the future – a hangar at Warton dedicated to trialling next-generation technologies.
This involves partnerships with around 50 organisations, and is trialling the use of equipment ranging from smart machining benches – now employed at BAE's nearby Samlesbury manufacturing site – to a robotic-assisted assembly station. This can be swiftly reconfigured to work on different fuselage sections or aircraft types with tolerances of tenths of a millimetre, BAE says.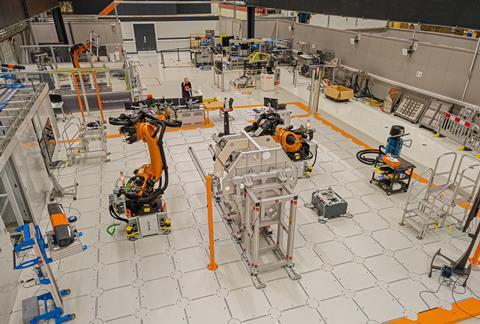 Around 30% of a future fighter's airframe could be produced using additive manufacturing, BAE believes, while innovations such as hot isostatic pressing would reduce its reliance on scarce materials by using powdered titanium during parts production.
The company plans to potentially double the size of its factory of the future to continue such research, which will only benefit projects like FCAS and Tempest.

Craig Hoyle joined Flight International in 2003, and has edited the now monthly title since 2015. He has reported on the UK, European and international military aviation sector for more than 25 years, and produces our annual World Air Forces directory.
View full Profile