If all goes to plan, 2020 will go down as the year Bombardier ends a 34-year sojourn in commercial aviation. The company expects to sell its CRJ programme to Mitsubishi Heavy Industries in 2020, handing the last portion of a once mighty regional portfolio to the parent of the company developing the SpaceJet regional jet.
So before the coming closes, Mitsubishi seems likely to assume Bombardier's place as Montreal's home-town commercial aircraft manufacturer. Bombardier is holding tight to its business aircraft division – the unit that makes among the most capable jets in the sector, including the Global 7500, which has a leading 7,700nm (14,300km) range. But the CRJ sale will effectively complete a move away from commercial aviation that began several years ago.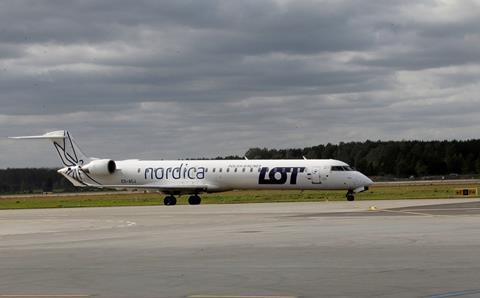 The transition, which has been supported by financial analysts, ironically resulted largely from the financial strain inflicted upon Bombardier by its own development of an extremely successful aircraft – the CSeries, now known as the Airbus A220. That programme not only created perhaps the most advanced commercial aircraft flying today, but also drained Bombardier of so much corporate treasure that it had little choice but to hand the programme for free to Airbus. Bombardier entered the commercial aerospace business in 1986 with the purchase of Canadair, a company that produced Challenger business jets and the CL-series of water bombers, and was also developing a regional jet known as the CRJ. Acquiring Canadair proved a good bet for Bombardier.
The CRJ100/200 was a smashing success, with US regional carriers seemingly unable to snap them up fast enough in the 1990s. Many of those operators lined up to buy subsequent larger variants, like the CRJ900. To date, Bombardier has produced some 2,000 CRJs of all variants, and has another 27 CRJ900s in its orderbook, according to Cirium fleets data. But the company is no longer taking orders and has said it intends to shutter the CRJ production line after clearing the current backlog – a milestone that Cirium fleets data shows will occur in 2020. Bombardier expects to close the sale of the CRJ programme to Mitsubishi in the first half of 2020. Mitsubishi is paying $550 million for the assets, which exclude CRJ production.
Mitsubishi Aircraft has already planted its flag in Montreal, announcing in September that it is opening an office there dedicated to helping to develop its SpaceJet line-up. The CRJ is among several commercial aviation assets Bombardier has divested in recent years. After handing the CSeries to Airbus, Bombardier in 2019 sold the Dash 8 turboprop programme, including the still-selling Q400, to Longview Aviation Capital, the Canadian company affiliated with Viking Aircraft, for $300 million. And in October 2019 Bombardier announced that it would sell commercial and business jet aerospace facilities in Belfast, Casablanca and Dallas to US aircraft heavycomponent maker Spirit AeroSystems for $500 million. That sale is also expected to close in the first half of 2020. Bombardier executives have said the divestments are helping to shore up the company's finances as it seeks to focus exclusively on its other activities, which include its business jet unit and train manufacturing division.
Story corrected on 7 May 2020 to note that Mitsubishi intends to pay $550 million, not $500 million, for the CRJ programme.