Riyadh used its inaugural World Defense Show to underscore a goal to localise at least half of its military expenditure before the end of this decade, with domestic growth and international partnerships among its investment and business targets.
Poor visibility caused by dust storms, plus high wind speeds, led to an opening ceremony and flypast for the 6-9 March event being cancelled at the custom-built site around 43 miles (70km) north of the Saudi Arabian capital. While this also restricted the number of aircraft participating in the tri-service exhibition's static display, the show's organisers reported 65,000 visits from attendees and companies representing 85 countries.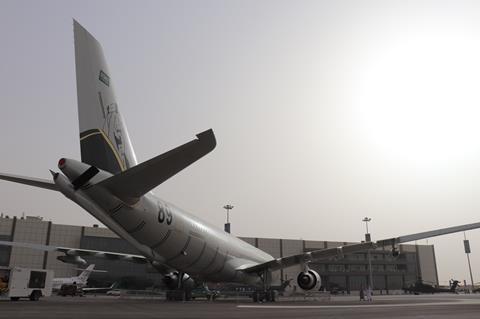 Ahmad Al-Ohali, governor of Saudi Arabia's General Authority for Military Industries (GAMI) – which established the show – notes that the kingdom's Vision 2030 process has established clear objectives to boost in-country capabilities and reduce a reliance on imports.
"His Royal Highness Prince Mohammed bin Salman [has] made it very clear that there is no armament deal without local content," he notes.
Also supporting its Vision 2030 initiative, Riyadh is to significantly boost military research and development (R&D) spending, Al-Ohali reveals.
R&D investment currently accounts for only around 1% of the nation's annual defence procurement budget: considerably below a global average of more than 4%, rising to over 8% in China and the USA.
"Our aspiration for R&D is to increase our investment four-fold by the year 2030," Al-Ohali told the International Institute for Strategic Studies' Riyadh Defense Forum event in the Saudi capital on 5 March.
"Our strategy has identified several areas for new technologies", he adds, while describing R&D as "one of the key pillars for Saudi Arabia to develop its defence industry".
"There has never been a better time to invest in the defence sector in Saudi Arabia than now," Al-Ohali says. "As part of our supply chain initiatives we have already identified more than 70 investment opportunities, worth tens of billions of dollars."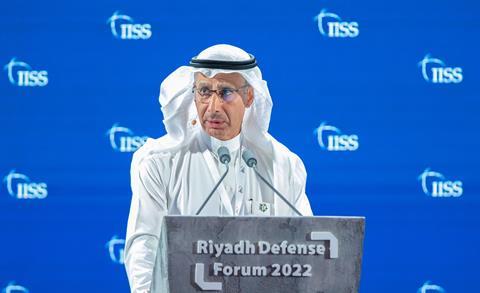 Following a significant policy shift, he notes: "Foreign companies can now own 100% of their investments in the Saudi Arabian defence sector, with similar incentives offered to local investors. Over the next decade, we are expecting an aggregate investment [worth] north of $10 billion. This is an unprecedented period for strategic partnerships and investments.
"We have established a very solid intellectual property programme that will ensure that the transfer of technology is well protected in the kingdom," he adds.
"The past few years have shown that all around the world co-operation is vital, and needed more than ever in the face of adversity," he says. "Countries around the world are developing industrial policies to create strong and resilient supply chains, and the Middle East is no different."
INVESTMENT POWERHOUSE
Al-Ohali notes that Saudi Arabia's annual GDP of around $850 billion ranks it among the top 20 nations globally, and that having almost 50% of its population aged below 30 "means dynamism, potential and innovation". Such factors make the nation "an investment powerhouse representing stability and prosperity", he believes.
"We are empowering our nation by offering equal opportunities to everyone," he says. "Workforce participation among women in Saudi Arabia has been steadily increasing over the past few years, and had reached 32% by the end of 2021: double what it was five years ago."
A significant number of major Western defence companies – such as BAE Systems, Boeing and Lockheed Martin – have had a decades-long industrial and operational presence in Saudi Arabia, and have already undergone a process of developing a local workforce.
All were at the show – but maintained a low-profile presence, rather than publicly discussing potential business opportunities. BAE exhibited its full-scale replica of the UK's Tempest future combat air system at a major international show for the first time, and Boeing promoted its F-15EX in model form, but Lockheed's exhibit notably did not include an F-35 model.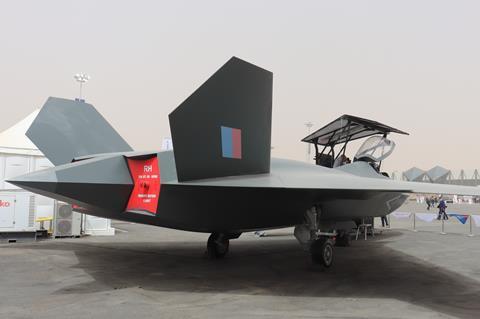 For these and other major players – among them Airbus Defence & Space, Leonardo and Raytheon – attendance at the launch show was essential to illustrate their willingness to embrace the broader Vision 2030 process.
For the United Arab Emirates' (UAE's) defence champion EDGE, the event offered an opportunity to exhibit just some of its products, and share its experience gathered on a similar journey previously taken by Abu Dhabi.
STRONGER TOGETHER
Formed in 2019 via an amalgamation of multiple industries, the UAE company is well established in areas including design, development, production and in-service support.
"We have started to position ourselves as any large international defence company would," Miles Chambers, EDGE's director, international business, told FlightGlobal at the show. "Localisation in Saudi is absolutely something that we are committed to."
Previous such initiatives have included a February 2021 teaming agreement between EDGE subsidiary NIMR and Saudi Arabian Military Industries, related to the future production of military vehicles in Saudi Arabia. The parent company is now pursuing "further opportunities in the kingdom", he says.
"The UAE and EDGE are well positioned to do this, because for many years this is exactly what the UAE did," Chambers notes. "We really understand a lot of lessons learned in terms of what works and what doesn't in terms of building up an industry.
"This gives us a slightly different insight," he says. "We understand the challenges and we can bring that experience to the market."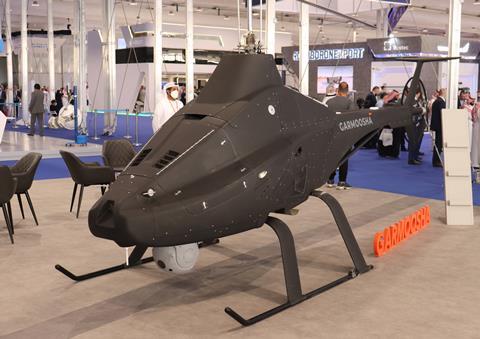 Among EDGE's aerospace products on display at the show were the Garmoosha vertical take-off and landing unmanned air vehicle, QX-2 and QX-3 loitering munitions, and an array of precision-guided air-launched weapons.
"EDGE's presence in the kingdom is only going to grow," he says. "That growth will take many forms, including investment into the local defence industry."
INDUSTRIAL DEVELOPMENT
Chambers also provides an insight into the national benefits of pursuing industrial development such as that achieved by Abu Dhabi and now sought via Riyadh's Vision 2030 drive.
"EDGE today provides a platform for young Emirati talent to work in a high-tech, fast-moving environment. A lot of our businesses are 15 or 20 years in the making, and today we have excellent engineering teams that are Emirati-led. That is proof that this process really works, and generates talent," he says.
"If you think of what the UAE has established as an industry in just 30 years – to a point where we have companies today where we have established joint ventures in other countries and established local manufacturing. We have moved beyond the UAE being this recipient of technology transfer, to the UAE being the one transferring the technology.
"We are a UAE-based company, but we are really and truly a global business," he says.
Meanwhile, a raft of Saudi companies used the exhibition to showcase their development activities. As an example, Intra Defence Technologies unveiled its Samoom medium-altitude, long-endurance unmanned air vehicle (UAV), optimised for intelligence, surveillance and reconnaissance tasks.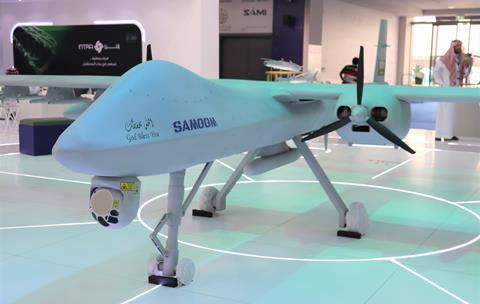 On display as a half-scale model dominating the company's stand, the twin-engined Samoom is 11m (36ft) long and has a 24m wingspan. Operational endurance will be in the 20-50h range, with the UAV to fly at up to 25,000ft.
The Samoom will carry a new 20in electro-optical/infrared sensor to be jointly developed by Intra and Hensoldt. It could also be armed with 1,050kg (2,310lb) of air-launched weapons mounted on underwing hardpoints.
Additional duties for an operational system could include performing border surveillance and pipeline monitoring, Intra says.
The new design joins a product range that already includes the vertical take-off and landing Asef series and the tactical Haboob. Developed from the Turkish-designed Vestel Karayel and optimised for the Saudi armed forces, the Haboob has flown more than 23,000 operational hours, says Intra's airborne systems director Anthony Gudgeon.
Manufacturing work on a prototype Samoom has yet to begin, with Gudgeon saying development work could be completed within around three years.
While partnerships are key to Saudi Arabia, there was no "corral" of US military aircraft on show, with Riyadh's own defence equipment taking pride of place.
Despite Moscow's invasion of Ukraine, Riyadh adopted a neutral stance and allowed exhibitors from Russia and Belarus to take part as planned, although their exhibits – such as that for arms agency Rosoboronexport – were shunned by most visitors.
UKRAINE SUPPORT
Meanwhile, a trio of Ukrainians promoting the products of export agency Ukroboronprom – including two contracting officers from export firm Progress – received a significant number of offers to supply the Kyiv government with donated or cost-price defence equipment.
"We are normally an exporter and would be here hoping to make new export contracts," says contracting officer Oleksandr Nikonishyn. "But this week we are mainly discussing imports."
In addition to reporting strong attendance at the launch event, the show's organisers say it closed after securing deals worth SR29.7 billion ($7.9 billion).
The biennial World Defense Show is scheduled to return for its second edition from 3-6 March 2024.
Additional reporting by Murdo Morrison