It has been a tough few years for Boeing's defence business. The aerospace giant failed to secure wins in some of the US Air Force's (USAF's) marquee programmes, including the next generation of long-range strategic bombers and intercontinental ballistic missiles.
Even where Boeing Defense & Space has secured contract wins, all has not been well. An aggressive, and ultimately successful bid to produce the USAF's latest aerial refuelling tanker, the KC-46A Pegasus, has resulted in more than $5 billion in losses for the company.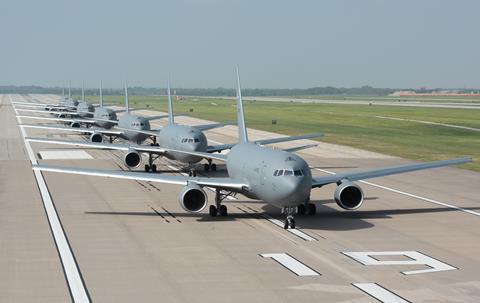 Other notable programmes, including the T-7A Red Hawk advanced jet trainer and the 747-8I-derived VC-25B Air Force One replacement have been fraught, with more than $1 billion in cost overruns in the first quarter of this year alone. During an April earnings call, Boeing chief executive Dave Calhoun even went so far as to express regret for accepting the contract to deliver two presidential jets, which has so far racked up $600 million in extra costs for which the company is liable.
Despite those setbacks, Boeing's defence arm still posted a tidy $1.5 billion profit in 2021, in contrast to a loss of more than $6 billion on the firm's commercial production business.
However, if commercial sales do not rebound in the coming years it will likely spell trouble for Boeing's defence division, says Richard Aboulafia, managing director of consulting firm Aerodynamic Advisory.
COMMERCIAL SUPPORT
"A lot depends on the commercial market, and whether they can get their commercial programmes back on track," he notes.
Aboulafia explains that before the Covid-19 pandemic disruption, Boeing adopted a strategy of ultra-low cost bids for defence programmes. The company knew this would drastically reduce profitability, but decided the move would be worthwhile to claw back market share in the defence space.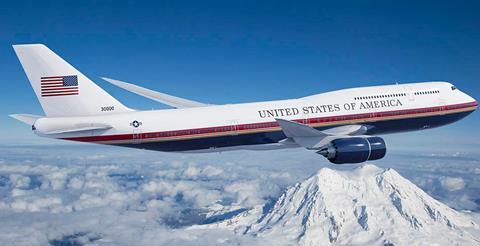 Boeing leveraged its previously gargantuan profits on commercial sales to protect against potential overruns or losses in its low-cost defence bids.
"If that commercial revenue returns, big time, they'll get true," Aboulafia declares. But he also cautions that losses on programmes like the KC-46A tanker will likely persist for years.
However, Aboulafia distinguishes between newer, loss-riddled programmes like the KC-46A, which he describes as being "bought at a price", and legacy product lines like the F/A-18E/F Super Hornet, F-15 and AH-64D Apache attack helicopter that remain highly profitable for Boeing.
"It's the older programmes – and many of them are going to sunset this decade – that are really driving profitability. The others are losing money," he notes, describing the split as a "bifurcation" in the business.
Notably, most of those profitable, legacy programmes were inherited by Boeing after the company acquired McDonnell Douglas in 1996, or the result of partnerships with other firms.
Boeing itself has proved less adept at securing and delivering profitable defence contracts, losing out to competitors like Lockheed Martin and Northrop Grumman.
Lockheed secured the sprawling multi-national contract to build the fifth-generation F-35 Lightning II Joint Strike Fighter, defeating Boeing's rival X-32 design.
Northrop beat Boeing in bids for two legs of the USA's nuclear triad of strategic deterrence: the B-21 Raider bomber and the Ground-Based Strategic Deterrent next generation of intercontinental ballistic missiles. Boeing withdrew its initial bid for the latter programme, citing concerns about the bidding process being uncompetitive.
However, Boeing has secured some major defence contracts that could reverse those fortunes over the coming decade. The MQ-25 Stingray autonomous tanker has already begun test flights, successfully refuelling three US Navy (USN) carrier-based aircraft: the F/A-18, F-35C, and Northrop E-2D Hawkeye.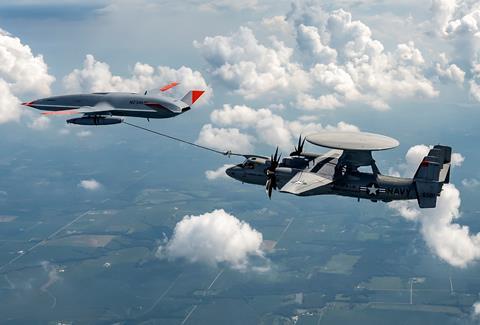 The Stingray, which has already demonstrated fully autonomous take-off and landing capability, will ultimately provide carrier-based refuelling support to USN air wings.
Boeing is also in the mix for the US Army's Future Vertical Lift (FVL) programme, partnering with Lockheed subsidiary Sikorsky to produce a replacement for the long-serving UH-60 Black Hawk utility helicopter, known as the Future Long-Range Assault Aircraft.
Boeing is backing Sikorsky's DefiantX coaxial rotor design against Bell's V-280 Valor tiltrotor. A decision in that competition is expected later this year.
Still in the earlier stages of development is another segment of FVL, the Future Armed Reconnaissance Aircraft (FARA) replacement for the retired Bell OH-58D Kiowa Warrior. Boeing was not selected as a finalist in that competition, the last stage of which is being fought by Bell and Sikorsky.
Aboulafia notes that Boeing has a track record of relying on outside firms to handle the heavy lifting when it comes to engineering new airframes – ultimately a successful strategy on programmes like the V-22 Osprey, built in conjunction with Bell.
"To be fair, they [Boeing] weren't as important as Bell on the V-22, but they still got something like half the business so you know, it might work for them," he says.
However, Aboulafia argues that this strategy has also resulted in the loss of the B-21 contract, in which Boeing bid a Lockheed design, and serious cost overruns on the T-7A and KC-46A: Saab and Lockheed partnerships respectively.
What ultimately started as a cost-saving measure may have resulted in the loss of internal research and development expertise needed to win standalone bids.
"They [Boeing] just consistently underestimated the resources needed both to win programmes and to execute on them," says Aboulafia.
So will the low-cost bid strategy ultimately pay off for America's largest exporter?
Aboulafia thinks it is possible, given the decades-long time horizon for some of the contracts, especially if commercial sales recover with the post-pandemic uptick in travel.
EXPORT POTENTIAL
Foreign sales of legacy products will also potentially provide a lifeline, particularly around the F-15.
However, the success of Lockheed's F-35, with carrier-launched, short take-off and vertical landing and conventional variants, has substantially narrowed the market. More than 750 examples are now in service with the US military and nine other nations, while Canada, Finland, Germany and Switzerland all have selected the stealthy type since last year.
It points to a decade filled with potential and peril for the aerospace giant, whose impact is so massive that it has been credited by American media and government officials as having the power to influence the entire $21 trillion USA economy.
Despite recent setbacks, Boeing is still a major player in the defence industrial ecosystem – receiving 21% of the total Pentagon procurement budget in 2020, according to financial analysis firm Trefis.
Faced with an expansionist Russia and an increasingly bellicose China, support for more defence spending appears to be one of the few points of political agreement in Washington DC.
If Boeing can get its commercial business back off the ground, the company is potentially well positioned to capitalise.