Airliner lavatories clog up more often than you think. Just ask Jenny Tung, an aircraft maintenance engineer with Air Canada. She is intimately familiar with the toilets in the air and it is her responsibility to ensure they keep on flushing.
Jet lavatories – along with headphone jacks, seat-back adjustment buttons and entertainment system screens – are among the most touched, and most frequently used items aboard any commercial aircraft, she says.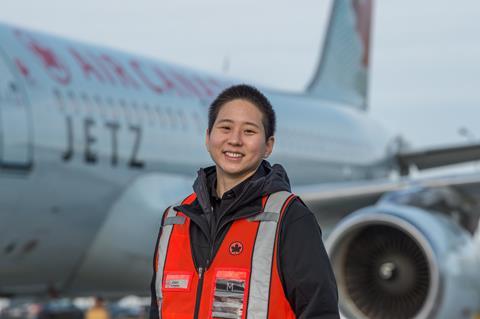 Tung is qualified to fix everything from loose wires and clogged toilets to leaky engines. She is a plumber, mechanic, carpenter, technician, HVAC (heating, ventilation and air conditioning) engineer, electrician and cleaner, all rolled into one.
Call her an aircraft whisperer.
"I don't feel like I go to work every day," says Tung. "I feel like I'm going out to play with the airplanes."
CHANGING COURSE
The daughter of Taiwanese immigrants, Tung, 33, arrived in Canada when she was nine years old. She attended an academically-rigorous high school, where students were encouraged – and expected – to pursue university degrees.
But a year before she graduated, Tung discovered a love and a skill for repairing automobiles.
"I never knew how good I was with my hands until I started fixing cars," she says. Just before she was ready to leave for university, she decided against it.
"My father was in the military, so he was all about discipline, and he always made me fold my blanket in a square," Tung says. "But that summer I was very honest with myself. I knew that if I went away to university I was going to party my head off and not get very good grades.
"I decided to do trade school first, and maybe think about university later."
She enrolled at the British Columbia Institute of Technology, where she completed a 16-month apprenticeship programme in aircraft maintenance, a course in which she was among just a handful of women.
While studying, Tung took a part-time job as a ramp agent – "tossing around 50-pound bags" and cleaning aircraft in an attempt to get her foot in the door.
"I knew I was going to have to be competitive, or employers just wouldn't see me," she says.
After graduating in 2008, she landed in a job and career that has taken her across the country – and has exposed her to an impressively wide range of aircraft, from business jets ("the Ferraris of airplanes", she calls them) and commercial airliners ("big old buses") to helicopters.
She is now at Air Canada, based in Vancouver, type-rated as a maintenance engineer for Airbus A320s and Boeing 767s, and working on the carrier's corporate charter aircraft.
Unlike colleagues supporting Air Canada's primary scheduled operation, Tung's job requires that she travel with the jets she maintains. She might, for example, accompany a professional ice hockey team on an away-game trip criss-crossing North America for a week or more.
By comparison, most maintenance on Air Canada aircraft used for scheduled flights takes place while the jets are parked overnight.
"When we get to the ramp in the evening, we have a task card with specific jobs to complete," she says. "We do everything mechanical. If a seat back doesn't recline, we fix it. If an engine doesn't start, we repair the problem. If a lavatory needs to be unclogged, we do that too. So we have to know the aircraft very well."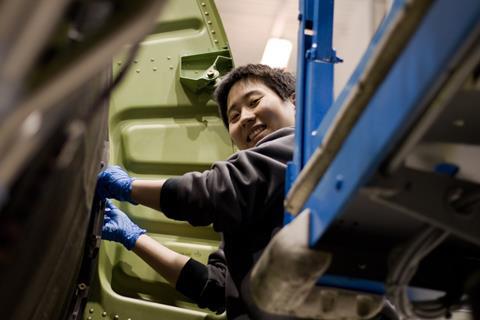 Tung credits numerous mentors with helping set her up for success – people who went out of their way to treat her as a peer in a segment of the aviation industry that is still more than 97% male.
"A lot of people in maintenance will treat you differently just because of you being female," she says. "My mentors never did that. They always gave me the same opportunities.
"I always joke with the guys that my purse is usually heavier than that toolbox," she says.
But the journey has not been all fun and joshing. When economic hardship comes, it often affects the aviation industry first – and its workers.
"I got laid off eight times so far. That's kind of just part of aviation," Tung says. "The economy has fluctuated a lot. But I'm still here. I'm still doing this."
Every time one door closed, every time crisis struck one part of the industry, Tung found new opportunities, and kept on learning.
JOB SATISFACTION
But what is the best part about working on big jets? For Tung, it is watching an engine come back to life following repairs.
"After certain checks, we have to do an engine run to make sure that it's not leaking or malfunctioning. It's very rewarding because you can see you did everything right, everything works and the engine performs the way it's supposed to."
On a recent night shift, Tung helped secure a repaired engine to the wing of a 787.
"In the morning, my parents took off to go back to Taiwan on that same aircraft," she says. "Who can say that in their job they put the engine on the airplane that their parents flew across the Pacific? That's a tremendous amount of responsibility and honour.
"I know the impact I have makes a huge difference," she adds.
Which brings Tung back to the clogged toilet. So how do technicians clear the pipes?
"We have what's called a lavatory snake. So we activate that toilet, and it creates a vacuum. We use the suction of one lavatory to unclog the other," she says.
"It's interesting and pretty disgusting. But it's important too."