Simulation-based training is a crucial element in preparing military aviators around the globe for the full scope of operations – our annual report looks at the devices in use worldwide.
Our latest Military Simulator Census shows there are 2,789 instructional devices in operational use around the globe, across our qualifying categories.
As would be expected, since it has the world's largest and best-equipped military, the USA is by far the dominant customer for simulation-based training equipment, accounting for 54% of all listed devices: some 1,515 units. By contrast, second-ranked France has 145 devices and just a 5% share, followed by the UK, with 98 (4%).
CAE is the world's largest provider of military simulators, with our data showing that the company has supplied 20% of all listed equipment in use; some 556 devices. L3Harris is in second place, with an 18% stake (506 units), trailed by Boeing (11%/303), FlightSafety International (FSI; 10%/288) and Thales (9%/241). The remaining 32% share, representing 895 devices, is spread between other suppliers.
NEW BUSINESS
Information received from the leading manufacturers shows that new equipment delivered in the first nine months of 2020 included four devices that are now supporting the US Air Force's (USAF's) Boeing 707-based E-3 Airborne Warning and Control System (AWACS) aircraft fleet in Oklahoma City. CAE and L3Harris each delivered a single flight training device (FTD), while the former also shipped a pair of operational flight trainers (OFTs) featuring its Medallion visual system.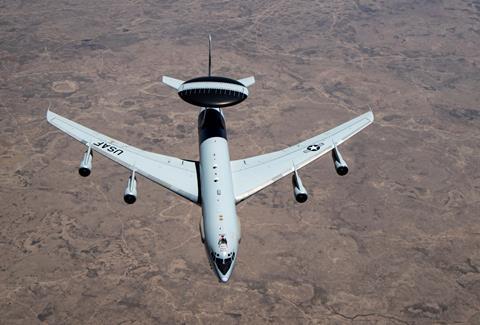 L3Harris also handed over one OFT each to the USAF and UK Royal Air Force (RAF), as part of an upgrade programme affecting their Boeing RC-135 Rivet Joint intelligence-gathering fleets. Now in use at Offutt AFB, Nebraska, and RAF Waddington, Lincolnshire, the devices use the company's Raster XT visuals.
The RAF revealed in July that its three RC-135s, along with 17 USAF examples, are to undergo a glass cockpit modernisation activity, with the first examples already returned to the operators.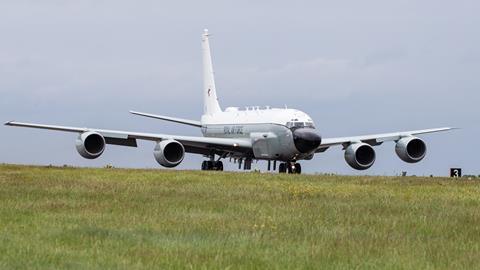 Also listed as a recent delivery is a Thales Reality H Level D full-flight simulator for the new Helisim Simulation Center in Grand Prairie, Texas. This will train pilots for operations with the Airbus Helicopters' H145T2. The company claims its equipment delivers "high levels of performance and unparalleled realism and flexibility".
DESIGN AND PRODUCTION
Despite the unravelling global coronavirus pandemic, new business announced during the first three-quarters of 2020 included an award for CAE to perform avionics updates on an E-3A flightdeck simulator and FTD for the NATO AWACS force at Geilenkirchen air base in Germany.
BAE Systems in July selected CAE's Medallion MR visual system for use with the full-mission simulators (FMS) to be delivered to Qatar in support of Doha's future Eurofighter Typhoon fleet.
Lockheed Martin selected CAE USA to support the design and production of a trio of FMS for the Air Force Special Operations Command's EC-130J electronic warfare aircraft and MC-130J combat tankers.
FSI, meanwhile, was selected to provide equipment and instructional services in support of the US Navy's incoming fleet of TH-73A training helicopters. Under the deal, the company will, from 2021, deliver 18 flight simulation training devices, along with image generators, visual databases, projectors and two central control stations. Leonardo Helicopters will supply the navy with a version of its AW119 under the TH-73A procurement.
And in a new link-up with Boeing, FSI is to provide aircrew and maintenance personnel training on the 767-based KC-46A tanker at Altus AFB in Oklahoma. Their multi-year arrangement initially covers services for the USAF and Japan, but could later be expanded to also train students for prospective Pegasus customers Israel and the United Arab Emirates. FSI supplies weapon system, boom operator and part task trainers for the KC-46A programme.
Securing such business with the USAF, which, with 722 training devices across our census categories holds a 26% share of the global market, is a clear goal for all suppliers.
COMMON STANDARDS
In September 2020, an L3Harris-led team was picked to participate in the USAF's Simulators Common Architecture Requirements and Standards (SCARS) programme. Other team members are CAE USA, CymSTAR, Dell Technologies and Leidos.
"The team will help the air force develop a set of common standards for simulator design and operation," L3Harris says, noting that suppliers' current use of varying and unique interfaces "makes training updates difficult". As well as tackling this, another key objective of the SCARS effort is to enhance cybersecurity, which will enable the service to securely link remote simulators together.
Work under the initiative will initially focus on nine sites supporting the USAF's Boeing KC-135 tanker and Fairchild Republic A-10 ground-attack aircraft fleets. However, L3Harris notes: "There are approximately 2,400 simulators across 300 locations that will be updated with the new common architecture over the next few years." This total includes training equipment not covered by our listing.
Meanwhile, our data shows that 22% of all listed simulation devices are used in support of Lockheed-built aircraft – most prominently the C-130 and F-16 – followed by 16% for Boeing platforms, and then Beechcraft (7%), Sikorsky (6%) and Airbus Helicopters (5%) types.
Supporting documents
Click link to download and view these files