Longview, whose unit De Havilland Canada bought the Dash 8 regional turboprop programme from Bombardier in mid-2019, restoring its pre-Bombardier brand in the process, enjoyed the biggest sales growth in the Top 100 as a result of that acquisition.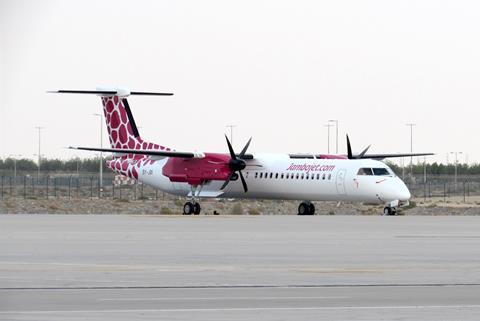 The venture capital group, which also owns British Columbia-based Viking, owner of the former de Havilland Twin Otter and CL series of amphibious firefighters, took on the 70-seat commuter aircraft on the basis that it could give it more focus than Bombardier, which at the time was reeling in debt from its troubled CSeries venture and anxious to cash-in assets. It also promised to consider investing in new variants.
Top 20 by sales growth
Rank by growth %
Rank by sales
Company name
Sales growth
1
90
Longview Aviation Capital
95.0%
2
16
Dassault Aviation
44.4%
3
26
TransDigm
37.1%
4
42
Turkish Aerospace Industries
36.1%
5
38
ST Engineering
30.3%
6
4
United Technologies
30.2%
7
94
Heroux-Devtek
26.7%
8
57
Ball Aerospace
23.7%
9
95
Albany Engineered Composites
22.2%
10
83
Garmin
21.9%
11
50
Woodward
20.7%
12
8
Safran
19.0%
13
72
Kongsberg
18.7%
14
31
Hanwha Aerospace
18.2%
15
47
Sierra Nevada
17.9%
16
61
Solvay Group
16.8%
17
79
Recaro Aircraft Seating
16.1%
18
14
General Dynamics (Aerospace)
15.9%
19
85
Ducommun
15.8%
20
52
Heico
15.2%
Now, like its counterparts in the commercial aviation sector, Longview faces a challenge as airlines remain partly grounded in the wake of the coronavirus crisis, and orders and deliveries have ground to a virtual standstill.
Dassault Aviation, as has been recorded elsewhere, also had a strong 2019, despite faltering sales of its business jets and the cancellation of its 5X programme, which was to have begun deliveries in 2017. This was largely thanks to a spike in deliveries of its Rafale combat aircraft.
TransDigm's acquisition of Esterline – which completed in March 2019 – saw the diversified group boost sales by over 37%, while it was a good year financially too for Turkish Aerospace Industries despite a move by the USA to end the country's participation in the Lockheed Martin F-35 programme over Ankara's planned purchase of a Russian air defence system. The state has invested heavily in the company and a number of indigenous programmes in a bid to boost the NATO member's indigenous capabilities.
Top 100 aerospace companies ranked by revenue
1

2

3

Currently reading

Longview sees the biggest sales rise

4

5

6