It is not the kind of good-news story we saw much of in 2020 – an aviation company expanding to tap an area of the market where demand for services is outstripping supply. However, that is exactly what Welsh maintenance, repair and overhaul firm Caerdav – founded by Iron Maiden front-man Bruce Dickinson – announced in October it was doing by establishing a cargo conversion facility for Boeing 737s at its site near Cardiff, which it hopes to have up and running this quarter.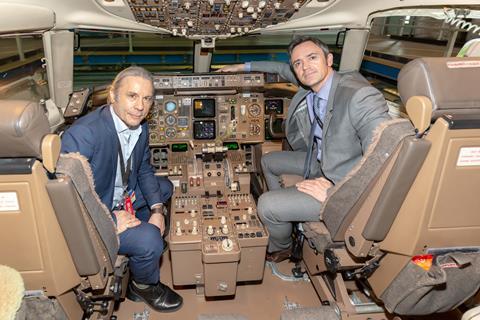 From the carnage of Covid-19, passenger-to-freighter (P2F) conversions are emerging as a rare growth sector thanks to a combination of factors. A shortage of passenger-jet belly capacity and thriving e-commerce – aided by the impact of lockdowns on bricks and mortar retail – has boosted the freighter market generally. At the same time, a stream of younger, more fuel-efficient aircraft – retired early or returned to lessors from failed airlines – are increasing the lure of the P2F.
"It was a logical step for us," says Caerdav group chief executive Joachim Jones. "Covid has had a massive hit on our [heavy maintenance] business, so we looked at ways of diversifying from C-checks. We had experience on 737 Classics and NGs, and at the same time leasing companies were approaching us and telling us they could not get the slots [for P2F conversions], while we had the capacity in our hangars. Bruce the chairman said 'let's do it'."
Caerdav will dedicate one of its two hangars to the P2F line, while it builds two new temporary sheds. The company expects to begin its first conversion at the end of March, licensing a third-party supplemental type certificate (STC) from "one of the world's largest conversion companies" which Jones will not name. "That was the quickest way of getting into this business," he admits. "But in a few years from now we plan to develop our own STC."
In its latest 20-year cargo outlook, published last October, Boeing predicts that airlines will need 2,430 additional freighters, with 930 of them new-build widebodies such as the 747-8F, 767F and 777F, as well as 1,500 P2F conversions. That 2,430 total is 390 lower than the figure Boeing had predicted in its 2019 outlook, partly because the airframer believes younger and more efficient aircraft entering the P2F market as a result of the airline crisis will slacken long-term demand for new freighters.
Alongside its three new-build widebody types, Seattle's main single-aisle offering in the P2F market is its factory-approved 737-800 Boeing Converted Freighter (BCF) programme. On 19 January, lessor BBAM announced six firm orders for 737-800BCFs, with six options, lifting the San Francisco-based company's total commitments to 15. Boeing says the deal takes the BCF's backlog to 150, including options, since its 2018 entry into service.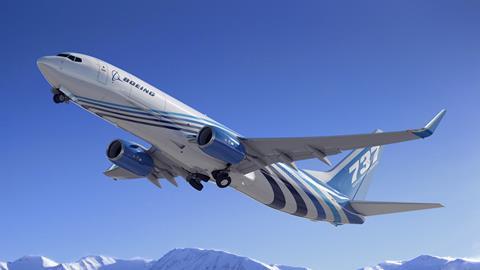 The circumstances thrown up by the pandemic have been the "perfect storm" for P2F programmes, maintains Jens Steinhagen, director of Boeing freighter conversions. "During 2020, the passenger fleet was largely parked and the industry realised this was going to be a long-term thing. This improved the availability of feedstock and helped to bring down the price of the asset," he says. At the same time, the reduction in passenger flights cut existing cargo capacity in the market.
The manufacturer works with three Chinese MROs on the 737BCF – its own Boeing Shanghai Aviation Services joint venture, GAMECO and STAECO – although it also endorses independent shops, including in the USA, to do their own freighter conversions under various STCs. Boeing's latest recruit to the programme, Guangzhou-based GAMECO, completed its first 737BCF, a former AeroMexico airliner, in October.
Steinhagen maintains that, before Covid-19, most passenger aircraft being converted to freighters were between 12 and 20 years old. "Now on the 737, we are seeing some show up that are under 10 years," he says. The return to service of the 737 Max, after its almost two-year grounding, could see further, possibly newer 737NGs being replaced in passenger service and becoming available to the P2F market, he adds.
P2Fs remain "the perfect step" for operators who do not want to invest in a new-build freighter, and "a great opportunity" for owners to extend the life of an asset, says Steinhagen. While he says the market for the 737 and 767 BCF programmes remains "very strong", he does expect some "levelling off as the market becomes saturated". He adds: "The big question is when? We are seeing it persist for quite a few years."
Boeing offers the 777F, based on the 777-200LR, as a factory-built option, but in 2019 lessor GECAS and Israel Aerospace Industries (IAI) launched their own freighter conversion programme based on the longer-platform 777-300ER – the first ever aftermarket modification for the large twin. GECAS, which is investing in the initiative and backed it with a firm launch order for 15 aircraft, with 15 options, believes that the 777-300ER Special Freighter could secure at least 150 orders during the 2020s.
According to GECAS, the 777-300ERSF has the advantage over Boeing's own 777-based product in that it can carry 10 more standard 96 x 125in (2.4 x 3.2m) pallets, and has a range that makes it competitive with the 747-400F. The other appeal of the 777-300ER is the number of examples operating as passenger airliners or in temporary storage – more than 800 pre-crisis, according to Cirium fleets data – with many coming to the end of their useful life in that market, says the lessor.
IAI, whose Aviation Group (previously Bedek) has been in the P2F market for 40 years and which also offers a 737-700 conversion, took delivery of the first 777-300ER in June 2020 and the converted freighter is due to enter service late next year. However, IAI expects project time to average four to five months once the production line is fully up and running. The Tel Aviv-based company is also considering establishing lines in locations outside Israel from 2023.
Cargolux chief executive Richard Forson said in November that his airline was "looking very closely" at the IAI and GECAS programme to replace some of its fleet of 747 line-built freighters. He suggested that, after a period when P2Fs went out of fashion in favour of production freighters, a reluctance by manufacturers to invest in new cargo aircraft programmes, such as the Airbus A350 or 777X, could swing the balance back to P2Fs.
An ongoing collapse in twin-aisle orders in the wake of the pandemic could make launches even less likely, with both the latest version of the 777 and the Airbus flagship likely to struggle for sales in the next few years. That could make P2F versions of the 777 even more attractive. Boeing for its part says it is "continuing to monitor" the viability of a 777X freighter launch. "The demand has not been such that we would jump on it," admits Steinhagen. "But we are assessing the situation."
On the Airbus side, the first A321P2F – produced by Airbus and ST Engineering joint venture Elbe Flugzeugwerk (EFW) – entered service in October, with Qantas, which will operate it for Australia Post. The aircraft – a 23-year-old airframe that was first delivered to UK carrier BMI in 2008 – was acquired for conversion in 2018 by asset specialist Vallair. Qantas, which is taking up to two more A321P2Fs, has said the type offers 9t more payload over the 737-300Fs it currently uses.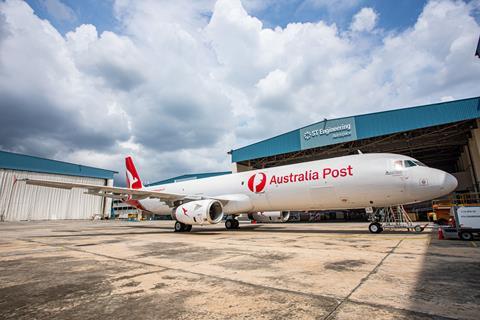 The A321P2F offers containerised loading on both the main deck, with 14 standard positions, and the lower deck, with 10. ST Engineering, which developed the STC, and EFW plan to establish further A321P2F conversion lines in China and the USA, and believe they can produce 25 of the large narrowbody annually by 2023. The Singapore company says the fact that its STC used original Airbus engineering data makes its product "more robust and reliable" than independent competitors.
Dresden-based EFW has been converting passenger aircraft for more than 20 years, and has delivered 200 widebodies, including its signature programme, the A330P2F. Chief executive Andreas Sperl says the A321P2F is an "ideal replacement" for the 757. Jeffrey Lam, president of ST Engineering's aerospace unit adds that the type "can help breathe new life into underutilised aircraft, which would otherwise suffer a harder landing in their residual value".
For its part, Chateauroux, France-based Vallair, which has pioneered the A321P2F programme by committing to dozens of aircraft, thinks there is a market for 400 freighter versions of Airbus's largest narrowbody over the next decade. Noting that "we took the decision early on to invest in the prototype", chief executive Gregoire Lebigot describes the A321 as "the future of freighter conversions".
Vallair has secured additional interest in the A321P2F, with a memorandum of understanding for 10 aircraft with US operator Global Crossing Airlines, to be delivered in 2023, and a plan to lease two to SmartLynx Malta, with handover later this year. The company also sees strong potential in China, where a resurgent economy is driving domestic air cargo demand, and recently announced that nine A321s would be modified to freighters at the ST Engineering facility in Guangzhou.
Meanwhile, in January, ST Engineering delivered the first of three A321P2Fs ordered by BBAM, which is leasing them to Titan Airways. The UK charter operator, which says it is seeing more demand for its freighter services, will add the CFM International CFM56-powered example, formerly flown by Thomas Cook Airlines, to its mixed Airbus and 737-400F fleet, although it plans eventually to replace its two Boeings with the A321P2Fs.
US company 321 Precision Conversions has launched its own A321 P2F programme and expects certification in February after flying the first example last October from its Beaverton, Oregon site – one of the Vallair-owned aircraft destined for SmartLynx. The joint venture between Aircraft Transport Services Group and 757 conversion specialist Precision Aircraft Solutions was set up in 2017 specifically to develop an A321 freighter, according to director of sales Zach Young.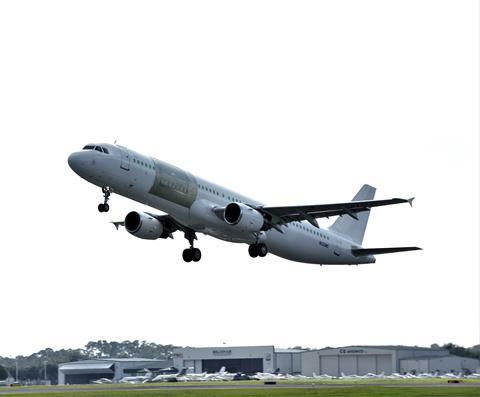 He says 321 Precision Conversions – which as STC-holder will not carry out its own modifications, but will ship kits to approved subcontractors – has seen "unprecedented interest" in the programme. He believes that, while the 757 remains a strong player in the P2F market, the "next few years will see a transition to the A321 as the preferred aircraft of that size". He adds: "Once the STC is issued, you will start to see customers flying in. It will release a lot of confidence in the market place."
EFW's other Airbus-approved programme, the A330P2F, got a boost in November when CDB Aviation committed to two conversions that will be available to airlines from early 2022. It is the Irish lessor's first foray into freighter conversion, a market it believes has strong potential. "We are seeing an increasing interest from customers for medium-sized freighters, as they look to take advantage of growing e-commerce demand and higher cargo yields," says chief executive Patrick Hannigan.
Burgeoning demand has prompted Swiss logistics company Kuehne & Nagel to enter the P2F market, not as a customer, STC holder, or conversion specialist, but as a facilitator. Its service is an extension of a product it launched last year for the aircraft interior market, where it offers to manage the supply chain and logistics around sourcing the components needed for a complex structural modification project.
"When an aircraft comes in for conversion, parts often come in transactionally, which can often result in delays," says Erik Goedhart, senior vice-president and global head of aerospace. Instead, Kuehne & Nagel manages the entire logistics side of the project. "Once the conversion is booked we ask the lessor or the MRO to give us the bill of procurement," adds Goedhart. "We make sure the shipset of parts is ready and comes in at the lowest possible cost."
When Covid-19 spread around the world last March it led to a dramatic reduction in belly-hold capacity as airlines axed routes, cut frequencies and grounded aircraft. At the same time there was an urgent demand for cargo services to transport personal protective equipment and other medical kit. The solution, in the short term at least, was the "preighter", a passenger airliner carrying goods strapped to seats, or with interior stripped out under a temporary exemption from the regulator.
Almost a year on from the start of the pandemic, the preighter is still very much a phenomenon of a much-altered aviation sector. But as the immediate health crisis recedes and airlines begin to rebuild passenger networks, longer term solutions for freight will be required, and this is where the P2F comes in. On the other hand, the risk for conversion providers is that a rapid return of belly-hold capacity would absorb much of the demand, and the P2F market could become saturated.
However, for market entrants such as Caerdav that day is some time away. "The airline recovery will take two years, maybe longer," says Jones. "Until then, the market for cargo aircraft will boom." There is currently more demand for conversions than there are "conversion companies out there", he asserts. "With e-commerce continuing to boost international trade, we think there will be more demand than supply for at least three years."