Elbit, more than any other Israeli aerospace and defence company, has expanded its international presence. Investing in innovation remains at the core of its strategy
For Elbit Systems chief executive Bezhalel "Butzi" Machlis, being a truly international company means more than offering Israeli equipment to foreign customers. It is about operating as a "multi-domestic" player by manufacturing and developing products across a network of subsidiaries and joint ventures. "Our Israeli market is important, but our future growth will come from abroad," he says. "Our strategy is to extend our industrial footprint, but also our IP [intellectual property] in the West."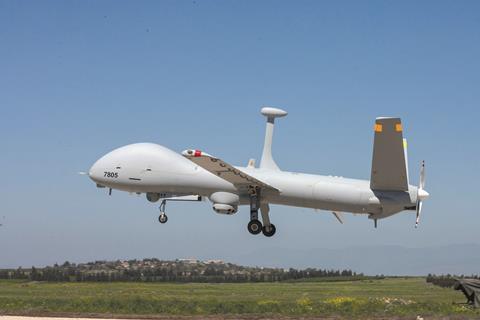 Elbit is unique among Israel's now big three aerospace and defence contractors in that it is stock market listed (rivals Israel Aerospace Industries and Rafael are ultimately owned by the government). The company has since its foundation in 1996 funded an aggressive acquisition strategy at home and overseas, from its merger with electronics specialist El-Op in 2000 – which propelled it into the big league in Israel – to its absorption of then-fourth-placed player IMI Systems (formerly Israel Military Industries) in 2018 and the former Harris Night Vision business late last year.
And while each of Israel's big three makes the majority of its revenues from exports, Elbit's proportion is particularly high at 80%, with 30% coming from the USA and 25% from Europe. "We are not government controlled, so it is a very different game," insists Machlis, an Elbit veteran who took over in 2013 from Yossi Ackerman, the boss behind the company's relentless expansion for 16 years. "Our strategy is to create innovation abroad, as well as in Israel, and become a truly global company."
That policy has seen Elbit establish sizeable footprints in, among others, Australia, Brazil, India, Switzerland, the UK, and the USA. The US market represents the biggest single slice of its revenues, and its Elbit Systems of America unit, which employs some 2,000 of the company's 16,000-strong workforce, will be the "centre of excellence" for its latest Night Vision acquisition. "That technology is not available in Israel, so that IP will remain in the USA," says Machlis.
The addition of IMI – a business more dependent on Israeli government contracts because of the sensitive nature of its products – should take revenues for 2019, the first full year of the combined business, to about $4.5 billion, compared with $3.68 billion the previous year. It also gives Elbit a foothold in munitions for the first time, to add to an extensive portfolio that spans unmanned air vehicles (UAVs), helmet-mounted and head-up display systems, electro-optical (EO) and countermeasures systems, electronic warfare and signals intelligence, and command, control, communications, computers and intelligence (C4I) capabilities.
This breadth of competencies and a high degree of vertical integration gives Elbit a "huge advantage when it comes to sharing technologies", says Machlis. "We can move them around depending on export controls and employ local citizens when there are local sensitivities." Elbit has also been happy to partner with other aerospace and defence companies on key programmes, including RUAG in Switzerland, Collins in the USA, and Thales on the UK's Watchkeeper surveillance UAV, which shares a platform with the Elbit Hermes 450.
However, while that "huge portfolio helps make us more efficient in terms of synergies and cost", Machlis admits that "it is difficult to maintain that leadership position without investing in R&D". Elbit, he says, invests 9% of its revenues, "double the usual percentage in the industry". Among the many fruits of this policy – and likely to be highlighted at the Singapore air show – is an airborne high‑powered laser that builds on work by the company on miniaturised directed energy systems and improving stabilisation techniques on board aircraft.
The company has been a leader in military lasers for many years, coming up with the Music directional infrared countermeasures system in response to a government requirement to fit all Israeli airliners with defences against shoulder-launched missiles, following a failed terrorist attack on a passenger jet in Kenya in 2002. Since it was declared operational in 2014, Elbit has marketed the Music range around the world, winning contracts from a number of governments for head of state aircraft and (in partnership with Diehl) from the German air force for its fleet of Airbus Defence & Space A400Ms.
Its acquisition of Tucson-based Universal Avionics in 2018 not only increased its industrial presence in the USA, but took Elbit into the commercial market. It also merged the US company's "head-down" technology – flight management systems and other cockpit displays for business and general aviation aircraft – with the Israeli firm's speciality helmet-mounted and other head-up displays to create a wider portfolio of flightdeck products. This includes SkyLens, a wearable head-up display that shows images generated by Universal's enhanced flight vision system.
"We see a lot of synergies with Universal," says Machlis. "They can leverage our defence portfolio, selling helmet technology into the commercial market." In addition, Universal's presence in the MRO segment – much of its business involves retrofitting older aircraft with modern avionics – means Elbit can access a further base of customers. "The aftermarket was not somewhere we were really in before the acquisition," he says.
Another development already in service that Elbit describes as an "intelligence breakthrough" is its SkEye wide-area persistent surveillance solution, part of a trend that Sasson Meshar, vice-president of airborne optronic systems, maintains is taking intelligence gathering from "data processing to wisdom" by using artificial intelligence (AI). The system allows operators of the EO equipment to zoom into several local areas of interest at any one time, while maintaining an eye on a region up to 80sq km (31sq miles) in area. AI tools highlight connections between incidents that might be taking place in different zones.
"AI is an area where we are investing a lot, in the sensor itself, in EO and in EW [electronic warfare], but also at a system level in the form of big data," says Machlis. The firm has invested in a number of start-ups specialising in AI with a view to identifying "out of the box" technologies that could be used in its products. "This has potential to be a real revolution," he says. "If you combine AI and big data, you can create lots of intelligence, which is relevant to everything that we do."
Israel focus
1

2

3

Currently reading

Why Elbit is looking to its global footprint

4

5

6