A family-owned business that has become a reference point in its chosen sector, electronic warfare specialist Elettronica continues investing to stay one step ahead of its bigger rivals.
In a field dominated by industry giants, Italy's Elettronica stands out. Not only is it very good at what it does – thanks largely to a pinpoint focus on everything related to electronic warfare (EW) – but it remains a family-run business.
Heading the operation is president and chief executive Enzo Benigni – the nephew of company founder Filippo Fratalocchi – while alongside him is his daughter, Domitilla Benigni, who also serves as CEO and chief operating officer, and son Lorenzo, who is director of institutional and governmental relations.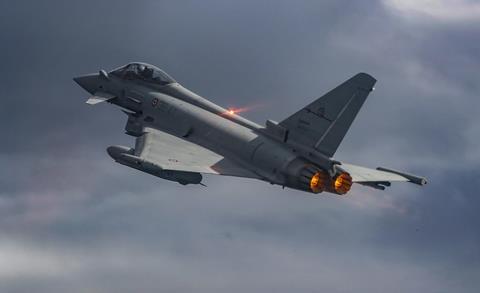 Born in 1938, Enzo Benigni has worked at Elettronica since 1966, or in other words, for all but 15 of the company's 71 years in existence. Given that long intertwined history, he is clear how the company has stayed the course.
"People ask how we have survived for 70 years. The answer is that we have never strayed from our niche," he says.
That signifies two things, he says: firstly, that Elettronica has developed incredible expertise in the segment, and secondly, there have been no distractions from attempting to move into an unrelated field.
"If you go deep into that niche the potential market is not so small," he adds.
Depending on how you view it, the company's ownership shows either the benefits of attempting to fly solo – you are so good at what you do that others need to invest in your business – or the difficulties, notably around size and scale, of such a position.
Industry giants Thales (33.3%) and Leonardo (31.3%) hold stakes in the Elettronica Group, with the remainder owned by the private family company Benigni Srl.
While the structure may be a way of ensuring some degree of independence, in a defence sector that seems perennially ripe for consolidation, how does the company ensure it is not simply swallowed up?
Enzo Benigni thinks for a moment before answering. "I'm not absolutely sure. Maybe I would like to be sure but I am not," he says.
But, he says, if there is a way, it is to maintain leadership in your niche – to make sure your technology is more advanced than that of your rivals. "There is a certain moment where the follower does not have enough money [to invest]. We have to create the right gap to keep this difficult… this has always been our philosophy," he says.
In practice this means Elettronica sometimes "renounces profit for quality", he says.
"It sounds crazy but it's not. What protects us is quality – quality wins everywhere, not only in a restaurant. It doesn't matter if we have to renounce some level of profit – to survive is the [best] quality."
HEAVY INVESTMENT
That, to no little extent, means investing heavily in research and development. Last year R&D spending was €50 million ($50 million), a figure Elettronica plans to double over the next decade, says Domitilla Benigni.
She charts the firm's growth from being a systems provider, to one supplying solutions – "a system-of-systems integrator" – ultimately becoming a "provider of multi-domain capability" focussed on "electromagnetic spectrum superiority".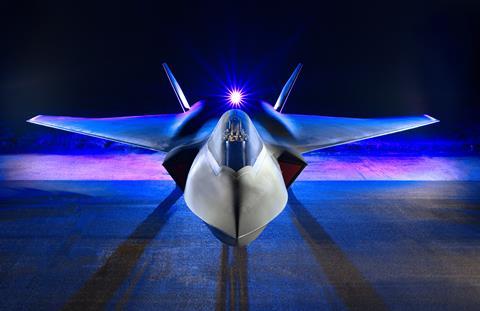 Besides the classic electronic warfare disciplines – self-protection, electronic attack, signals intelligence – the company also has interests in the adjacent field of cybersecurity and has ambitions to bring its expertise into the space domain.
There has also been a surprise pivot into bio-defence as a response to Covid-19, with the company promoting its E4Shield: a roughly 8cm (3.1in) box which uses microwaves to destroy the cell structure of the virus. It is designed to 'sanitise' a space of about 3m (10ft) around an individual, while a larger, wall-mounted version with a claimed effective range of 50m is also available.
Elettronica Group comprises four separate businesses: Elettronica SpA (also known as Elt Roma) and GmbH, respectively the original Rome-based company and its German sister, plus CY4Gate, a cyber security software spin-out, and EltHub, a rapid prototyping and research unit in which a 70% shareholding was acquired in March this year. "We bought it with the aim of it being a small laboratory for Elt Roma," says Domitilla Benigni.
CY4Gate was set up in 2014 "to complete the concept of electronic warfare", says Enzo Benigni.
"In my opinion electronic warfare-cyber, which is a small niche today, will be very important in the future."
He points to the ongoing conflict in Ukraine, where cyberattack and defence is a constant, if unseen, battle. "The damage you can receive from a cyberattack is more than a bomb – it is not a weapon, it is not a device – it is invisible but exists probably in a heavier way than traditional electronic warfare," he says.
A 46% chunk of CY4Gate was floated on the Italian stock exchange in 2020, with Elettronica retaining a 38% stake and Milan firm TEC Cyber holding the remainder. Revenues in 2021 were a healthy €63.6 million, compared with €250 million for Elt Roma.
Despite its branching out, traditional EW solutions remain at the core of Elettronica's business. For example, it is the design authority for and manufacturer of the Praetorian self-protection system on the Eurofighter Typhoon as part of the EuroDASS consortium. Other examples of its systems equip the NH Industries NH90 and Leonardo Helicopters AW101 rotorcraft.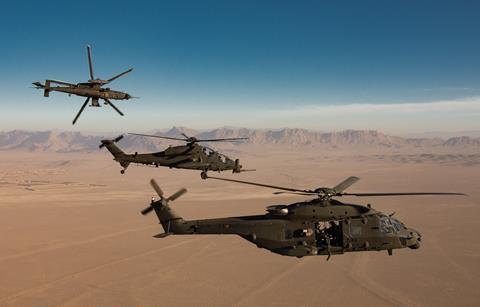 Additionally, Elettronica is participating in the Tempest future combat air system programme, which seeks to deliver a manned successor to the Eurofighter after 2035, alongside uncrewed assets. Led by the UK with Italy as a participant together with Japan, Elettronica is Rome's EW champion for the development.
Enzo Benigni sees Tempest as "the future" and praises the UK's leadership, noting that it "knows how to manage this kind of consortium"; the Eurofighter programme, in which London is also a partner, has been a "miracle of organisation", he says.
And although Flight International's interest in the company is clearly centred on its air capabilities, Elettronica does equally strong business in the ground and maritime domains.
Daniela Pistoia, corporate chief scientist, says the company's future technological investments stem from the knowledge that the electromagnetic spectrum on which military and non-military missions rely – "a critical enabler for all dimensions of warfare", as she puts it – will in future become increasingly "contested, congested, constrained and constantly changing".
Development work is also informed by its participation in two European Defence Agency-backed consortia. Lead by Spain's Indra, REACT (Responsive Electronic Attack for Co-operative Tasks), is developing a next-generation electronic attack capability as a podded system for escort missions, or for use by unmanned air vehicles for stand-in operations.
Pistoia says a "stand-in" solution "overcomes the challenges" of a stand-off capability – notably the need for a crewed platform and the power requirements associated with operating from further away. And as with other areas of air combat, a fleet of cheaper, smaller – potentially networked – aircraft promises a step-change in performance for comparatively lower cost. Depending on a future production decision, a new system developed under REACT could be fielded by the end of the decade.
TEAM CAPTAIN
Meanwhile, Elettronica is co-ordinating a 14-strong group of companies, representing eight nations, who are working through Project Carmenta to develop the next generation of self-protection systems for fixed-wing transport aircraft and helicopters.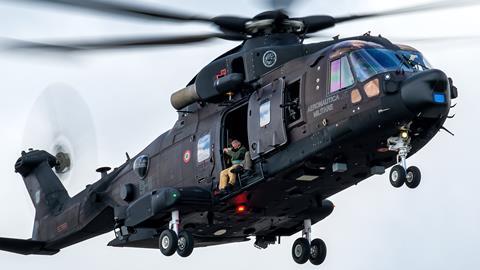 But are these Europe-spanning projects a sign that the continent's industry knows it must work together, or a harbinger of future consolidation?
Enzo Benigni seems sanguine either way. Europe's defence industry must collaborate to avoid duplication of effort, he says. "It's not acceptable from the point of view of cost to have many different armoured cars, or aircraft, or other weapons – the trend is commonality."
This direction of travel is "another reason" to strive for excellence, he adds, if only as a differentiator. "How many companies will remain? I don't know," he says. "Somebody will disappear… but the niche will always be important.
"We do not know what will happen but the niche will always remain," he adds, with the clear subtext that he thinks Elettronica will continue to thrive within it.