Airbus says that Metro Aviation, an operator of medical aircraft for healthcare providers, has ordered 12 more twin-engined EC145e helicopters, bringing the Louisiana-based company's order book total for the aircraft type to 43.
Metro was the European aerospace company's first customer when the EC145e was launched in 2015, the company says in a statement at Heli-Expo in Anaheim, California on 29 January.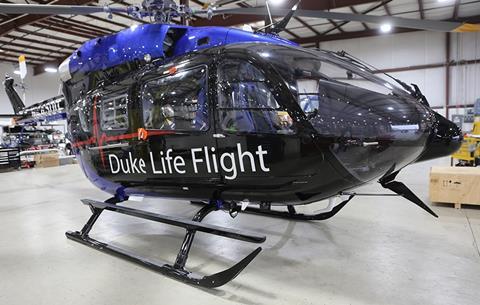 "This new order further strengthens our longstanding relationship with Metro Aviation, who found a particular need within the industry and was able to fulfill those specific mission requirements with the EC145e," says Romain Trapp, president of Airbus Helicopters and head of the North America region.
The new orders of EC145e for Metro will be produced in Airbus' US facility in Columbus, Mississippi, the same location where the UH-72A Lakota helicopter – a derivative of the EC145 produced for the US Army – and the H125 are also built.
Metro says earlier today that the first US-made aircraft was recently delivered to Metro's newest operations customer, Duke Life Flight, and that it has several more deliveries scheduled in 2020.
Metro is currently operating EC145e helicopters for Duke University, the University of Utah, Vidant EastCare, West Michigan Air Care, Children's Healthcare of Atlanta and GundersenAIR.