Airbus Helicopters has unveiled what it calls the "H175M Task Force" – an industry grouping it has put together to support its bid for the UK's New Medium Helicopter (NMH) requirement.
Lenny Brown, newly appointed Airbus Helicopters UK managing director, revealed the team members at a briefing at the Royal International Air Tattoo on 15 July.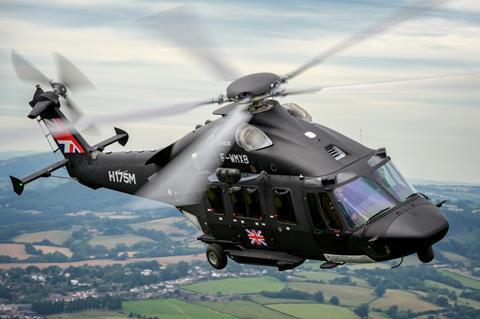 The H175M Task Force comprises Babcock (support and services), Pratt & Whitney Canada (engine MRO), Martin-Baker (crew and troop seating), and Spirit AeroSystems UK (detailed design and manufacturing activities).
Alongside its planned H175M production line at Broughton in North Wales, the partnerships – including Spirit AeroSystems' sites in Prestwick, Scotland and Belfast, Northern Ireland – will ensure all four nations within the UK are represented in the NMH's industrial footprint, says Brown, which "ties in" with the government's levelling up agenda. Further partners will be announced in due course, with around 70% of the H175M's content to be from UK suppliers.
Brown is staying tight-lipped on what exactly Spirit AeroSystems will supply for the programme, but, in part, it relates to the future local production of undisclosed components.
Nick Laird, managing director of European Space & Defence at Spirit, says it will initially provide a "detailed design and manufacturing team" to support Airbus Helicopters at its UK headquarters at Oxford Airport.
"As that matures, as Lenny has said, we will look at what areas of manufacture will follow on from that for the platform."
If selected for the NMH contract, the Broughton plant will build H175Ms for the UK and for the export market.
Based on its analysis and conversations with potential customers, Airbus Helicopters sees a "very conservative" market for up to 500 H175Ms globally from a total requirement of 1,500 rotorcraft, says Brown; potentially up to 130 units could be required by 2030.
"I should reinforce the point that the H175M will only be built in Britain and the H175M will only be exported from Britain."
That appears to be a thinly veiled dig at the airframer's rivals for the NMH contest, Leonardo Helicopters and Sikorsky, which will have multiple production lines for their respective AW149 and UH-70 Black Hawk platforms.
Airbus Helicopters' production system, where major sections of the helicopter are built elsewhere within its industrial base and then shipped to a plant for final assembly, will help "de-risk the production as much as possible", he says.
However, Brown adds: "The hard bit is not putting the main component assemblies together, it is the integration and certification of all the military systems that we are doing 100% from Airbus Helicopters UK; that's where you get the competitive edge on the battlefield."
London has yet to release a detailed specification for the NMH, beyond certain "indicative performance requirements", says Brown.
It plans to procure as many as 44 helicopters for a total budget, including training and initial support, of £1.2 billion ($1.42 billion) to replace the Royal Air Force's fleet of 23 Puma HC2 transport, plus three other types.
A recent Ministry of Defence strategy framework document suggested the NMH might only be in service for a maximum of 15 years, but Brown believes whichever helicopter is selected will be in service for much longer.
"How many capital programmes have only lasted a short time in UK equipment? I can't think of any off the top of my head. Also we have the export market to service so just building between 36 and 44 aircraft in the UK is not really long-term thinking."
Airbus Helicopters also supports the current Puma HC2 fleet under a contract that was meant to run until 2022. Negotiations to extend that deal are under way, says Brown, with it potentially continuing until 2025 or even beyond.

Dominic Perry is deputy editor of Flight International but also contributes extensively to flightglobal.com. Although specialising in the coverage of the helicopter industry, he has written on most topics in aerospace – be they commercial, defence or business aviation. In addition, there has been an increasing focus on the decarbonisation of the industry and zero-emission flight initiatives.
View full Profile