Airbus Helicopters has gained European type certification for its new H160 medium-twin, although it must wait until it secures US approval later this year before it can deliver the initial example.
Although Babcock had previously been listed as launch customer, first delivery will now go to an undisclosed US operator, says the airframer.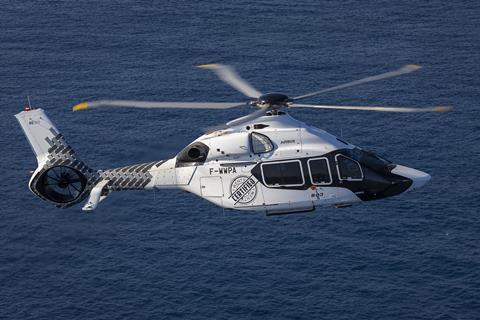 European Union Aviation Safety Agency (EASA) certification documentation refers to the specific model as the H160-B. Maximum take-off weight is listed as 6.1t.
The helicopter is also validated for day or night visual flight rules operations, plus instrument flight rules in non-icing conditions, the documentation discloses.
"We are proud that the H160 has received its EASA type certificate. This achievement represents years of hard work designing, industrialising and defining the support ecosystem with our suppliers and partners and I would like to thank everyone who has dedicated their time and energy to turning this next generation helicopter into reality," says Bruno Even, Airbus Helicopters chief executive.
"I now look forward to the H160 entering into service and offering its innovative features that bring competitiveness alongside additional comfort and safety to customers worldwide."
Three prototypes and the first serial aircraft were used for the development campaign, along with dedicated ground-based test assets. In total, 1,500 flight hours were logged ahead of certification, including customer demonstration flights.
Launched in 2015 and powered by twin 1,280shp (955kW) Safran Helicopter Engines Arrano-1A turboshafts, certification for the H160 comes around two years later than originally planned.
Initial development of the civil model will be followed by a military variant for launch customer France, where it will be known as the Guepard and operate for all three services.