Europe's two rotorcraft manufacturers must come together to develop a next-generation military helicopter or run the risk of losing out to their rivals, an Airbus Helicopters executive has warned.
Jerome Combe, head of product policy and strategy at the airframer, told the Royal Aeronautical Society's Next-Generation Rotorcraft Conference that it would be undesirable to have two major European helicopter manufacturers "competing in a shrinking military market".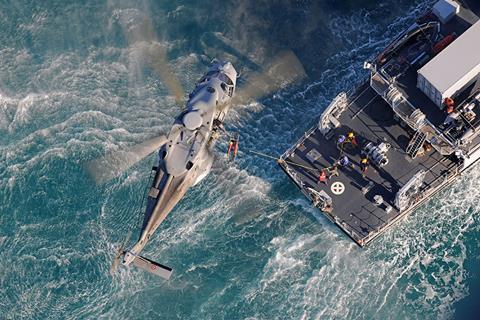 "Without co-operation we take the risk of not reaching critical mass" to achieve a return on the substantial investment required to bring a new aircraft to market, he says.
Airbus Helicopters has its two main manufacturing sites in France and Germany, while rival Leonardo Helicopters has its critical mass in Italy and the UK.
Those four countries, plus Greece, are involved in a NATO push to design and develop a future medium-class helicopter – with a maximum take-off weight of 8-15t – to enter service in 2035 under the organisation's Next Generation Rotorcraft Capability effort. That sees a requirement to replace around 1,000 medium-lift helicopters in the period from 2030-2040.
But Combe says there is also potential to join forces under a similarly titled effort Airbus has proposed to the European Defence Fund.
Combe is hopeful that this proposal can coalesce into an "identified" programme along the lines of the four-country EuroMALE unmanned air vehicle initiative.
He says support for the rotorcraft initiative has already been voiced by all three of its home nations: France, Germany and Spain.
"We would definitely be stronger towards Europe if we were going hand and in hand with Leonardo. We hope this will be the case in the future."
Discussions between the pair are already under way, says Combe, and he is positive that an agreement on a future direction can be reached.
He notes that both companies are separately developing high-speed civil platforms – Racer and the Next-Generation Civil Tiltrotor, respectively – under the EU's Clean Sky 2 programme.
These could be used to perform flight demonstrations for military customers to assess the suitability of their architectures for a range of missions, he says.
And while the Racer will be a smaller aircraft than that outlined by NATO, Combe says that Airbus modelled a similar compound architecture for its now abandoned X6 programme for a helicopter of up to 16t.
"When we explored the architecture for a heavier aircraft there was no blocking in terms of the design," he says.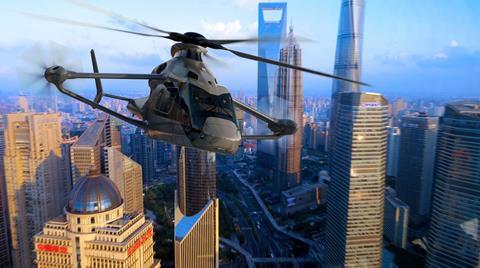 Airbus Helicopters and Leonardo have previously collaborated through NH Industries – alongside Fokker – on the NH90 programme.
While Italy and the UK are part of NATO's NGRC process, both countries have also expressed an interest in the USA's Future Vertical Lift (FVL) programme.
Should one or the other decide to leave the NATO effort, that could also throw Leonardo's continued participation into doubt.
However, Combe says this will depend on whether FVL is "a competitor or complementary asset" to NGRC.
That will ultimately depend on the requirements outlined by NATO, particularly those around speed, range and endurance, says Steve Allen, head of strategy at Leonardo's UK helicopter unit.
"A discussion around vehicle architecture is fundamental from an early stage," he says.
In addition, choosing a non-US product may be driven by concerns around consideration needs to be given to sovereign capability, freedom of action and industrial strategy, he adds.
The NGRC group should begin to clarify some of these issues later this year, when it conducts planned engagement with industry.
Allen also notes that while the 2035 timeframe is achievable, veterans of previous development programmes would consider it a "sporty timeline".
Although FVL presents an obvious threat to military sales, Combe stresses that the technological development driven by the programme will also lead to increased competition in the civil market.
US helicopter manufacturers are benefiting from huge planned investments under FVL – a combined total of around $5 billion for the two programmes of record for new assault and scout helicopters.
Even if a proposed design is not selected, the research and development investment already received will be applied to a manufacturer's civil range, he says.
"We need to be very aware and awake of the threat that is arising for the European industry. At the end of the day, I think the future of the rotorcraft industry in Europe depends on successful military programmes. Without that, I think we will lose," he says.
"The US won't give critical technologies to its European competitors."