Indonesia's Derazona Helicopters has become the first Indonesian customer for the Airbus Helicopters H160 medium-twin.
Derazona will use the rotorcraft for roles such as supporting offshore oil and gas fields, utility, and passenger transport, says Airbus Helicopters.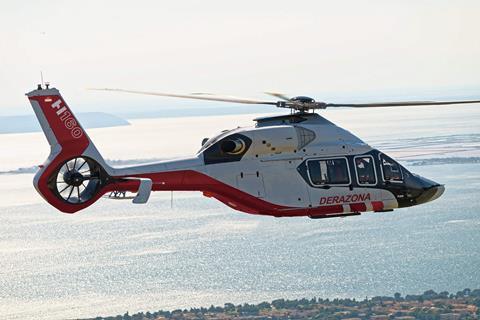 "This new order is a timely welcome as our company embarks on a transformation journey to grow our business," says Ramadi Widyardiono, business development manager at Derazona Helicopters.
"We are very impressed by the performance of the H160, and excited at the opportunities that this state-of-the-art helicopter will bring to our operations."
In addition to being the H160's first customer in Indonesia, this is the first H160 ordered for oil and gas work in the Asia-Pacific.
Airbus Helicopters did not give a timeframe for the delivery, or the value of the deal.
PT Derazona Air Service has six in-service helicopters, according to Cirium fleets data. It operates two Indonesia-Aerospace-produced Bell 412s, two H125s, and two AS332s.