Airbus Helicopters has begun flight tests of a battery-based electric back-up system (EBS), which will boost safety in light-single helicopters by providing up to 30s of power in the event of an engine failure.
Carried out in conjunction with France's DGAC civil aviation regulator, the evaluations have been performed with the airframer's H130-based Flightlab flying testbed, which has been equipped with a 100kW electric motor connected to the main gearbox.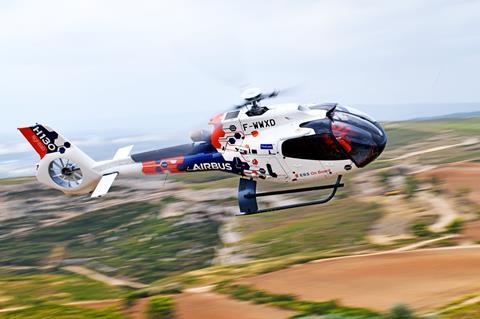 In the current phase, trials include simulated engine failures in different flight stages, including take-off and landing procedures and corresponding limits.
By providing 30s of power in the event of an engine failure, the pilot is given additional time to react in order to carry out an autorotative landing.
Aside from the safety improvement, the test campaign also aims to validate the potential for an increase in maximum take-off weight, both to offset the extra weight of the EBS and provide additional payload.
In addition, Airbus Helicopters sees the trials as a route to future hybridisation of light helicopters.
"The current EBS flights are a very important first step towards a future hybrid propulsion system and we already foresee a second phase of the project with more energy and power on board," says Tomasz Krysinski, head of research and innovation at Airbus Helicopters.
"We are looking at developing a fully parallel hybrid propulsion system mixing thermal and electrical energy together with the aim of optimising fuel consumption and enabling hybrid single-engine flights over urban areas".
To aid the transition of the technology onto future production aircraft, the various components that make up the EBS have been designed with serial production in mind, says the manufacturer.