Airbus Helicopters could offer the H175 super-medium-twin to the UK as a replacement for the Royal Air Force's fleet of Puma utility helicopters in 2025 – despite the fact that no military variant of the 8t rotorcraft exists.
In fact, Airbus Helicopters has consistently said that it was prevented from developing a military version due its partnership agreement with China on the programme.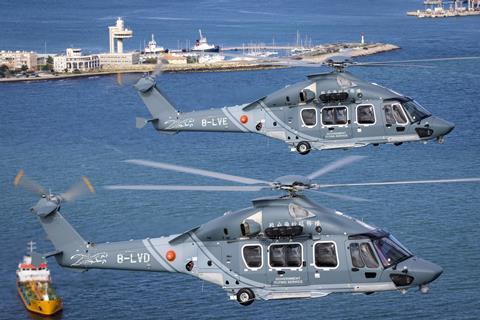 However, Jerome Combe, head of product policy and strategy at the airframer, told the Royal Aeronautical Society's Next-Generation Rotorcraft Conference on 21 January that it could offer several alternatives as a Puma replacement, such as the H225M and NH Industries NH90, or the H175.
The Pratt & Whitney Canada PT6-powered twin could "really offer a huge opportunity for the UK", he says, including in-country final assembly and increased national content.
UK-built examples could also be offered for export, he says.
China's Avicopter has been a partner on the programme since its launch in 2005. It supplies components to the H175, including fuselage parts, but also builds its own version, the AC352, which is powered by Safran Ardiden 3C engines.
Airbus Helicopters declines to comment on how it would sidestep limitations relating to a military variant. However, one solution could be to substitute Chinese content on the helicopter.
An Airbus Helicopters spokesman says: "Airbus Helicopters looks forward to addressing the UK's future medium helicopter requirements as they take shape and we are confident that we can offer attractive solutions which will both fully meet the armed forces' operational needs and contribute to a strong national prosperity agenda.
"Airbus has an established, substantial and world-class design and manufacturing footprint in the UK and we have never been averse to the implementation of a helicopter final assembly line where it makes commercial sense for the worldwide market."
As part of its unsuccessful bid to sell search and rescue-roled H175s to competitors for the UK's SAR privatisation last decade, Airbus Helicopters offered a degree of industrial participation in the programme.
Under that initiative it promised to turn its Aberdeen, Scotland site into a SAR "centre of excellence", providing training and modification work for all SAR-configured H175s.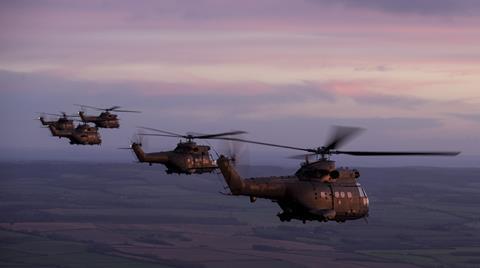 At present the Puma has an out of service date of 2025, but Airbus Helicopters says it could support the type up to 2035, potentially aligning its departure with the arrival of a next-generation platform.
Although initially delivered in the 1970s, the UK's current 23-strong fleet were modernised in the mid-2010s, raising them to the HC2 standard, an upgrade that included a new digital cockpit and uprated engines.
"The Puma 2 is a proven high-performance and value-for-money capability, which entered service in 2015 hosting the latest digital avionics and mission systems.
"Airbus is committed to its support and continued service beyond its current out-of-service date out to 2035."
No programme of record for a Puma replacement currently exists, with a decision to be influenced by the UK Ministry of Defence's ongoing Integrated Review.
However, should a requirement emerge, Leonardo Helicopters will offer the 8.6t AW149, which would also be built in the UK.
Leonardo has a more pressing need to secure work for its Yeovil final assembly line in Somerset: having assembled the final AW159 Wildcat in 2019 it is currently only building AW101s.