Airbus Helicopters sees a requirement for 300 new civil helicopters in the Pacific region over the next decade, with oil and gas to return as a major segment.
The European helicopter maker says that there is a significant replacement market across all parts of the market, given that 60% of the region's fleet is over 20 years old and needs to be refreshed.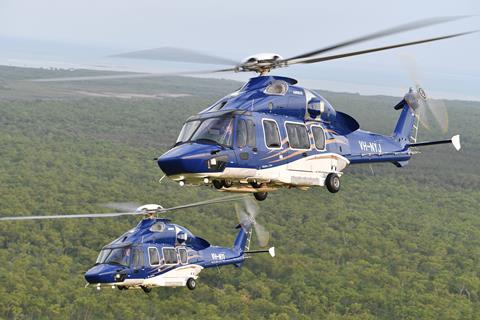 The company defines the Pacific region as Australia, New Zealand, Papua New Guinea, as well as island nations in the Pacific Ocean. The company disclosed its forecast at the Avalon Airshow near Melbourne.
The company expects single-engined helicopters to perform well in the commercial as well as private and business aviation segments. This is due to growing requirements in sectors such as utilities and mining.
The company also sees strength in oil and gas, particularly since energy prices remain elevated. This will benefit sales of larger twin-engined helicopters such as the H175 and H160, which are suitable for offshore operations.
During most of the 2010s, soft energy prices hurt demand for large helicopters designed to reach offshore oil and gas platforms.
Christian Venzal, managing director for Australia, New Zealand and Pacific at Airbus Helicopters, says that offshore operators also appreciate the lower burn of newer super-medium types such as the H175, compared with larger legacy platforms.
Law enforcement will also be a growth area, particularly for the company's H145 light-twin.
"The region presents extensive opportunities for Airbus across the segments where we are ready to support with a strong portfolio and an established maintenance and training network across the region," says Venzal.