Australia will obtain 13 additional Sikorsky MH-60R anti-submarine warfare helicopters, and has finalised its acquisition of 29 Boeing AH-64E Apache attack helicopters.
The 13 MH-60Rs represent an investment of A$2.5 billion ($1.7 billion), according to prime minister Scott Morrison, and will bring the Royal Australian Navy's MH-60R fleet to 36 examples.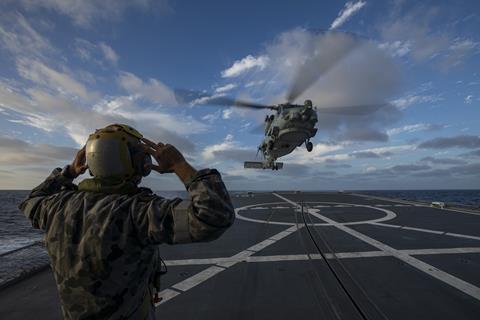 The potential deal for 12 MH-60Rs was outlined in an October 2021 Foreign Military Sales (FMS) notice from the US government, with an additional helicopter to cover one unit lost in a 2021 crash.
While the original FMS case valued the 12 MH-60Rs at $985 million, Morrison says that A$360 million will go to expand HMAS Albatross, where the helicopter fleet is based.
The acquisition will see the NH Industries MRH90 – the local designation for the NH90 – retired from Australian navy service.
"This additional growth further enhances the Royal Australian Navy's rotary-wing capability and increases operational flexibility to transition from anti-submarine and anti-surface warfare to maritime utility and support missions using the multirole capability of the MH-60R Seahawk," says Lockheed Martin Australia chief executive Warren McDonald.
In January 2021, Canberra announced that the AH-64E had won the Project Land 4503 competition, which called for 29 armed reconnaissance helicopters to replace Canberra's 22 Airbus Helicopters Tigers.
Morrison says this acquisition is valued at over A$5.5 billion, and includes A$500 million to upgrade facilities related to the Apache buy.
Deliveries of both the new MH-60Rs and AH-64Es will commence from 2025.
"We're expanding the size and capability of our helicopters to meet the threats Australia faces," says defence minister Peter Dutton.
"We're following the 2020 Force Structure Plan that outlined the need to expand our naval operations in particular and the [MH-60R Romeo] fits that role as a next-generation submarine hunter and anti-surface warfare helicopter, and can also assist with search and rescue and transport as they have during recent bushfires and floods."
He adds that the AH-64E is a proven attack helicopter in service with both the USA and entering use in the UK.