Australia confirms that it will obtain 40 Sikorsky UH-60M Black Hawk helicopters, with deliveries to commence this year.
The rotorcraft will be obtained under Canberra's LAND 4507-01 programme via the US government's Foreign Military Sales (FMS) process.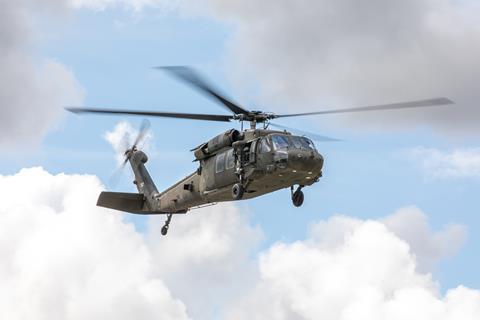 "The Black Hawk capability will be a crucial element for us to protect Australia's sovereignty, and deliver foreign policy objectives, including providing humanitarian assistance and disaster relief," says Australian Army Major General Jeremy King.
"The Black Hawk will support the deployment of our troops and their equipment where they are needed in times of crisis. The Black Hawk is a reliable, proven and mature platform supported by a robust global supply chain. This acquisition will mean we can continue to defend Australia and respond in times of need in a safe and effective way for years to come."
The arrival of the Black Hawks will close a difficult chapter for Australian Army aviation, which has faced continued problems with its NH Industries MRH90 Taipans (the local designation for the NH90).
The plan to replace the Taipans with Black Hawks was announced under Australia's previous government led by prime minister Scott Morrison. After winning control of parliament in May 2022, the nation's new administration said it was reviewing the Black Hawk deal and other previous procurement decisions.
In August 2022, the US government cleared an FMS case for 40 UH-60Ms valued at $1.95 billion.
Lockheed Martin Australia – Sikorsky is a unit of Lockheed – welcomed the government's announcement.
"The UH-60M Black Hawk is a tough, reliable and proven utility helicopter," says Lockheed Martin Australia chief executive Warren McDonald.
"Australia's acquisition of the Black Hawk reinforces our nation's enduring military interoperability with the US and allied nations. The Black Hawk will enhance future joint operations and the ongoing protection of Australia and the Indo-Pacific region."
Australia's Black Hawks will operate from Oakey, Queensland and Holsworthy, New South Wales. The rotorcraft will be sustained by a local workforce.
"Delivery of the Black Hawk helicopters will commence this year," adds Australia's Department of Defence.