Australia has grounded its entire fleet of NH Industries MRH90 Taipan helicopters owing to sustainment issues.
"Defence has temporarily suspended flying operations of the MRH90 helicopter fleet," says Australia's Department of Defence (DoD).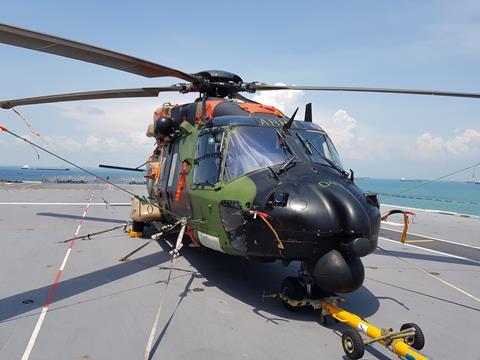 "The fleet was suspended as a safety precaution. The issue relates to the application of the helicopter's maintenance policy in the helicopter's IT support system. Defence and Airbus Australia Pacific are currently working collaboratively to remediate this issue," the DoD says.
The aim, it says, is to lift the suspension as soon as possible. Meanwhile, Australia's army and navy will support ongoing commitments with other rotorcraft. The Australian military operates 47 MRH90s, the local designation for the NH90.
The DoD did not specify how long the helicopters have been grounded, but the Australian Defence Business Review reports that fleet has not flown since May.
The MRH90 had an extremely challenging entry into Australian service. In 2014, Australian auditors blamed a series of procurement errors and "development deficiencies" for a long-delayed service entry for the type.
Acquired under three separate phases of the Australian Defence Force's Project Air 9000 requirement – worth a projected A$4 billion ($3 billion) – an initial contract for 12 helicopters was signed in 2005, with a contract modification covering an additional 34 examples completed in 2006.
In February 2019, Australian Brigadier Jeremy King, director general army aviation systems, said the MRH90 was performing well, but only after significant efforts to turn the programme around. He said that given Australia's intense use of the MRH90, it often encountered issues before other users of the NH90 platform.
In its 2020 Defence White Paper, Canberra stated that from the late 2020s it hopes to induct a new "long-range rotorcraft" for the army in a programme worth a projected A$1.4-2.1 billion.