France has firmed an option for two additional Airbus Helicopters H160s, adding to four examples of the new medium-twin already destined to be operated by the country's navy for search and rescue (SAR) missions.
UK-headquartered Babcock is to lease all six helicopters to the navy, taking them from an undisclosed number it ordered in 2018. No delivery date for the H160s has been disclosed, but the initial example is described as being at a "fairly advanced stage of production".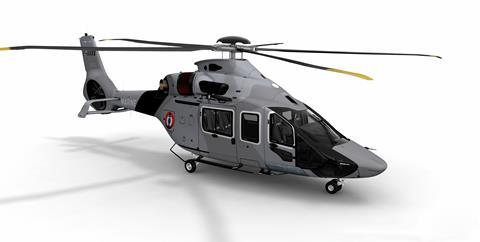 Babcock is to modify the aircraft into a "light military configuration", including the integration of the Safran Electronics & Defence Euroflir 410 electro-optical system.
The H160s will be certificated for night-vision goggle compatibility and will be fitted with a winch.
To be based in Brittany, Normandy and Provence, the H160s will take over missions currently performed by the naval variants of the NH Industries NH90 and AS565 Panthers.
Feedback from the operation of the new helicopters will be used to shape the design of the H160M Guepard, which will be operated by all three branches of the French armed forces, deliveries of which are due to start in 2026.