Babcock has won a new five-year contract for offshore helicopter services in the northern North Sea.
No value has been disclosed for the deal, which is expected to become operational on 1 July.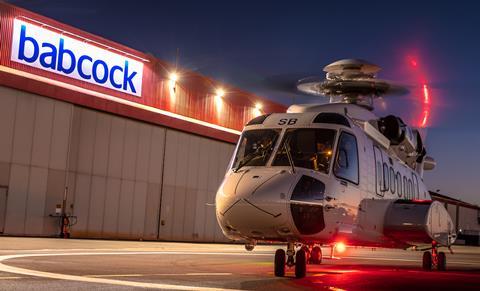 UK-headquartered Babcock will use Sikorsky S-92 heavy-twins to deliver the services for three oil companies from Sumburgh airport in Shetland. It anticipates initially providing over 100 flights per month from the site.
In addition, the contract includes fixed-wing services from Aberdeen to Sumburgh, which will be flown by Loganair.
Babcock is taking over the work from the now disbanded Integrated Aviation Consortium (IAC).
IAC's flights were provided by a combination of Bristow Group and its then-sister operation Eastern Airways; oil company members include the trio – CNR International, Enquest and TAQA – now working with Babcock. Additional partners included BP and Total.
Although Babcock's chief executive Archie Bethel recently hinted that the company would abandon the oil and gas segment in the face of stiff competition, its new award suggests a longer-term commitment than previously indicated, and may well lead to bids on additional tenders.
However, if rivals Bristow and CHC continue to drive down prices, Babcock may ultimately have few options: Bethel said its competitors were engaged in a price war "which we don't really want to join".