Russian Helicopters has secured an order for two Mil Mi-171A2 rotorcraft from Bangladesh's police department.
The two helicopters will be delivered in the first quarter of 2023, says the company.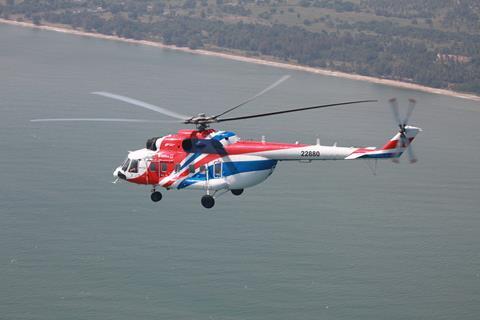 "The executed contract is a consistent step in our international promotion of civil helicopters," says Russian Helicopters director general Andrey Boginsky.
"The agreement confirms the fact that Russian helicopters have gained excellent reputation and demand in the People's Republic of Bangladesh which has extensive experiences in operating Mi-8/17 helicopters. I am sure that the outstanding flight performance, operational parameters, and cutting-edge on board equipment of the Mi-171A2 model will be much appreciated by our partners."
The company notes that the Bangladeshi deal adds onto a recently contract to supply a pair of Mi-171A2s to Peru.
The Mi-171A2 is powered by a pair of Klimov VK-2500PS-03 engines with a digital control system, as well as upgrade navigation and communications systems, says Rostec.
The Mi-171A2 can carry up to 4t of cargo internally or 5t externally.