A Bell 429 is set to become China's first electronic news gathering (ENG) rotorcraft.
The helicopter was delivered to China's main broadcaster, CCTV, says Bell. The manufacturer says it will be the first helicopter equipped for the ENG role.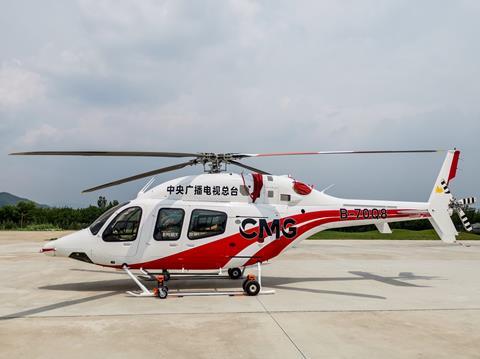 Bell's local representative, Reignwood, will integrate camera equipment into the helicopter before it enters service. CCTV has authorised a Reignwood unit, Reignwood Star, to operate it.
"The Bell 429 is an extraordinary helicopter designed for multiple missions, and it will help CCTV reach the scene of news first, which means a lot for media," said Cao Wei, general manager and chief pilot of Reignwood Star.
"We believe CCTV made the best choice."
Cirium fleets data indicates that there are 16 Bell 429s in service in China, operated by nine companies. Beijing Reignwood Star and State Grid General Aviation are the biggest operators, with four examples each.