Canada's government has awarded Bell Textron's Canadian subsidiary a C$800 million ($637 million) contract to modernise the Royal Canadian Air Force's (RCAF's) fleet of Bell CH-146 Griffon helicopters.
The contract was officially awarded by the government of Canada on 30 May, Bell said on 6 June.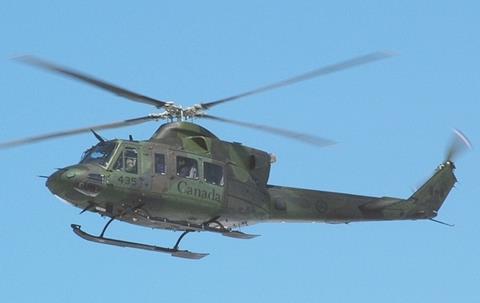 The RCAF operates 85 of the utility lift rotorcraft, making it the largest helicopter fleet in the Canadian inventory. The CH-146 is a variant of the Bell 412, a four-bladed model in the Huey family.
"We are proudly celebrating the award and implementation of the Griffon Limited Life Extension project for the Royal Canadian Air Force by the Government of Canada," says Bell Textron Canada president Steeve Lavoie.
Recapitalisation of the Griffon's systems is expected to be complete by 2028. It will extend the service life of the fleet into the 2030s.
In 2019, the RCAF said the CH-146 upgrades would cover the helicopter's avionics systems, engines, cockpit displays and integrated sensor systems. Raytheon subsidiary Pratt & Whitney Canada was selected to replace the engines on the fleet with its PT6T 9 TwinPac.
Bell says it will perform modifications on the first nine helicopters at a facility in Mirabel, Quebec, before managing a competitive process to subcontract suppliers to perform modifications on the remaining 76 helicopters.
The company adds that it intends to support modernisations for more than 80% of the fleet through partnerships with Canadian industrial companies. Bell also operates a supply centre for the Griffon fleet in Calgary, Alberta.
The RCAF has deployed CH-146s internationally to support humanitarian, peacekeeping and coalition combat operations as part of the UN and NATO. Domestically, the fleet has supported civilian authorities in fire fighting, medical and security missions.
The type has been in service with the RCAF since 1995.