Helicopter maker Bell has delivered two Subaru Bell 412EPX utility helicopters to the armed forces of Guatemala.
The Textron subsidiary says it turned over the aircraft to the Guatemalan Ministry of National Defence on 19 December at La Aurora International Airport in Guatemala City.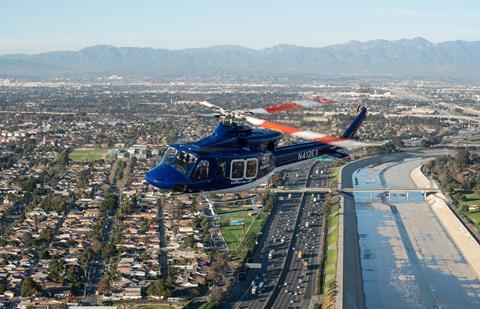 "We are excited to introduce the Subaru Bell 412EPX into the Guatemalan air force," says Major General Henry Yovani Reyes, minister of national defence. "The aircraft will support missions including disaster response, humanitarian relief and other utility needs."
Bell says the 412EPX is a "popular choice" among its customers, comprising more than 54% of the global Bell 412 fleet deployed in military and para-public missions worldwide.
"We are honoured to bring the most modern version of the Bell 412 to Guatemala," says Carl Coffman, vice-president of advanced vertical lift systems for Bell.
The Guatemalan air force currently operates versions of the Bell 206, 212, 407, 412 and UH-1 Huey, Bell says. The 412EPX is the latest version of the 412 type, whose ancestral line boasts more than 6.5 million flight hours.
The 412EPX, a joint venture of Bell and Japanese automaker Subaru, features a reinforced main rotor gearbox that improves horsepower and maximum weight capacity, according to Bell.
That improvement enables the aircraft to transport more supplies and perform operations more efficiently. The 412EPX has a maximum internal weight of 5,440kg (12,200lb), an external weight of 5,900kg and up to 2,270kg of materiel with a cargo hook.
Bell developed the type with Subaru in 2015 for Japan's UH-X competition to replace the Japan Self-Defense Force's fleet of Bell UH-1J Hueys. The first aircraft was delivered to the service in 2019 with the designation UH-2.