Boeing has become the latest firm to join Airbus Helicopters' bid for the UK's Puma replacement contest, signing up to the 'H175M Task Force' as training provider.
Last September, the US defence giant was one of four companies short-listed by the Ministry of Defence for the next stage of its New Medium Helicopter (NMH) competition.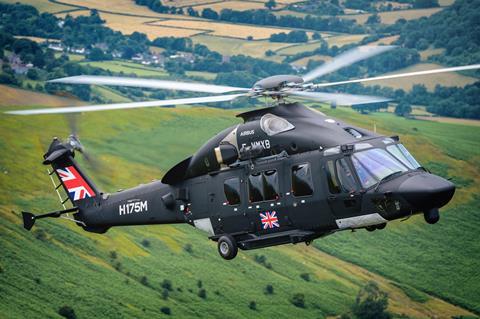 However, as revealed by FlightGlobal, Boeing – which was proposing its services and support capabilities, rather than an aircraft, for NMH – recently decided not to pursue the requirement as a prime contractor.
At the time, Boeing revealed few details of its plans but indicated a willingness to work with other bidders; the decision to support Airbus Helicopters as "training services partner" is clearly the outcome of that process.
Under the agreement, should the H175M be selected for NMH, Boeing Defence UK will provide aircrew, groundcrew and maintenance training.
"As a member of the H175M Task Force we look forward to leveraging our current expertise to ensure availability and readiness for the UK's future helicopter fleets," says Steve Burnell, managing director of Boeing Defence UK.
Lenny Brown, managing director of Airbus Helicopters UK, praises its new partner's capabilities, adding: "As training services partner it completes a rock-solid line-up of UK-based first-tier aerospace partners who bring a guarantee of world-class service provision to the UK Ministry of Defence for decades to come."
Boeing joins Babcock (support), Martin-Baker (troop seating and cabin integration), and Spirit AeroSystems (detailed design and manufacturing) on the H175M Task Force.
If the super-medium-class platform wins the NMH contest, Airbus Helicopters will build the H175M at a new assembly line in Broughton, North Wales.
However, it faces competition from the Leonardo Helicopters AW149 and Sikorsky S-70M Black Hawk.
UK defence officials were due to launch the next stage of the NMH tender by the end of March, although recent ministerial statements have suggested a delay to that timeline.
Although usually arch-rivals, Airbus and Boeing have worked together before in the rotary-wing space: the pair partnered last decade for Australia's HATS trainer progamme, with prime contractor Boeing selecting the H135 light-twin for the mission. They are also teamed in Germany, where Airbus Helicopters will support an incoming fleet of CH-47 Chinooks.

Dominic Perry is deputy editor of Flight International but also contributes extensively to flightglobal.com. Although specialising in the coverage of the helicopter industry, he has written on most topics in aerospace – be they commercial, defence or business aviation. In addition, there has been an increasing focus on the decarbonisation of the industry and zero-emission flight initiatives.
View full Profile