Boeing says the health of the US AH-64E production line is an important consideration for militaries who are considering upgrading their legacy AH-64Ds.
Randy Rotte heads Boeing defence sales in Asia-Pacific and India. He notes that AH-64D operators are considering upgrading legacy AH-64Ds to the 'E' standard, and that "at least a couple" of countries in the region are thinking about boosting their Apache fleets.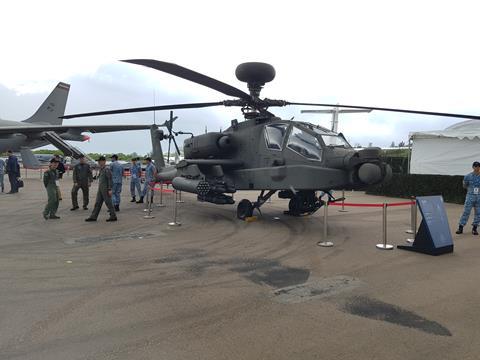 He says the USA's decision to embark on a multi-year buy of AH-64Es should be a key factor for AH-64D upgrades. In July 2019, Boeing secured a deal to produce or remanufacture up to 600 US Army AH-64s to the 'E' standard.
"So you've got a steady production line," he says. "You definitely want to tap into that… you don't want to wait until that production goes down to zero or close to zero, [because] then you bear the weight and the burden of the cost of keeping that production line going."
Cirium fleets data suggests that there are 125 AH-64s in the Asia-Pacific region. AH-64E operators comprise India, Indonesia, South Korea and Taiwan. Australia plans to obtain 29 examples to replace the Airbus Helicopters Tiger.
Long-time Apache operators Japan and Singapore, however, operate the older AH-64D. Japan has 12 AH-64Ds with an average age of 11.2 years; Singapore has 18 AH-64Ds with an average age of 16.7 years.
Speaking about helicopter upgrades in general, Rotte stresses that there is no one-size-fits-all owing to different use patterns and helicopter configurations around the region.
"Each country has their own configurations based off of their requirements and unique situation," says Rotte.
"When you start talking about [additional aircraft or upgrades], certainly we work with the US government and directly with those countries to help them find that perfectly balanced solution, between the capabilities they need, the timeframe to deliver them and the cost of those… we are working that across the region."
In the 'E' variant, the Apache's performance is improved via GE Aviation T700-701D turboshaft engines, composite main rotor blades, and an improved rotor drive system. Other upgrades include enhanced avionics, integration of communications Link 16-related hardware and software, and a cognitive decision aiding system.
The 'E' variant also includes the ability to pair with unmanned air vehicles.