Boeing will start production of MH-139A Grey Wolf helicopters following a contract award from the US Air Force (USAF).
The $285 million USAF contract award covers 13 helicopters as well as sustainment and support services, says Boeing.
Boeing is the prime contractor for the helicopter, which will replace the Bell UH-1N providing protection for the USAF's intercontinental ballistic missile (ICBM) sites in the continental USA.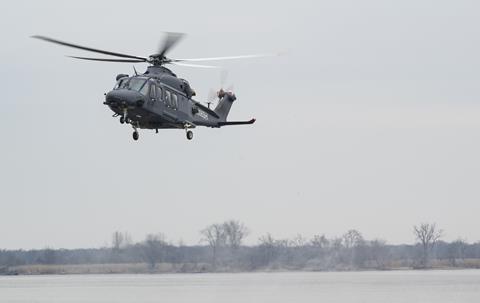 "Advancing the programme from testing and evaluation to production is a major step toward entering the MH-139 into service and providing the US Air Force with additional missile security for decades," says Azeem Khan, Boeing's MH-139 programme director.
"We are working diligently to begin deliveries next year."
The MH-139A is a modified Leonardo Helicopters AW139 civil airframe. Leonardo produces the helicopter in Philadelphia, while Boeing, acting as prime contractor, is responsible for militarising the rotorcraft and delivering it to USAF.
Boeing says that the MH-139A will offer 50% greater speed and range than its predecessor, and also increase gross weight by 2,270kg (5,000lb).
The helicopter is unique in that it is a military helicopter tasked with operating in domestic airspace, which required it to obtain US Federal Aviation Administration type certification.
In mid-2022, Boeing delivered the first four MH-139As. Overall, the USAF has plans to obtain 80 examples. The type is expected to serve for decades.