Boeing sees the humanitarian and disaster relief mission continuing to drive sales of the CH-47 Chinook helicopter in the Asia-Pacific, but hints that a possible Indonesian deal for the eight MV-22 Ospreys is far from a certainty.
"We're getting a significant amount of demand in the region for our vertical lift capabilities, whether it's heavy lift or attack, but certainly in the heavy lift area is really surrounding the humanitarian assistance, disaster relief and search and rescue capabilities offered by our CH-47 platform," says Maria Laine, vice-president international sales and strategic partnership at Boeing Defense, Space & Security.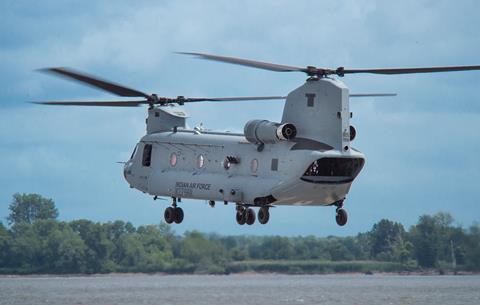 She notes that the tandem-rotor type played a role during Australia's bushfire season in 2019 and 2020.
Laine adds that Japan and South Korea have two of the largest Chinook fleets in the world, and that Boeing hopes to expand the type's footprint in the region.
Cirium fleets data shows that there are 177 Chinooks in service with Asia-Pacific countries. Key operators are Japan (82), South Korea (43), and Singapore (18).
Laine also notes that the first – and so far only – international customer for the Bell Boeing V-22 Osprey is Japan. Following a 2015 order, Tokyo started receiving the tiltrotor in 2020, and plans to eventually operate up to 17 examples.
Indonesia is also considering the Osprey. In July 2020, the US Defense Security Cooperation Agency said Washington had approved the possible sale to Indonesia of eight MV-22 Block Cs for $2 billion, alongside spares, training, and support services.
Asked about the Indonesia deal, Laine notes that Indonesia has a number of defence requirements, and budget constraints suggest that Jakarta will need to prioritise.
"We're continuing to stay closely connected and to watch those developments, and then see which ones are prioritised as they also continue to look through their armed forces modernisation programme," says Laine.
"But I think it's probably better to ask [this] question of the Indonesian government in terms of where they land on that in the terms of priority order."
Randy Rotte, who heads Boeing defence sales in Asia-Pacific and India, notes that the Indonesia Osprey opportunity is a campaign that falls under the auspices of the US government's Foreign Military Sales process.
"It's a great example of the US military working with the Indonesian military, and the OEMs Boeing and Bell, trying to find a tailorable solution that fits [the needs of all parties]."
Rotte, however, alluded to the domestic challenges Indonesia faces, particularly during the coronavirus pandemic.