Peter Bond, part of one of the UK offshore helicopter industry's famous dynasties, has made a surprise return to the sector through a pact with aviation services provider Gama Aviation.
Working through a joint-venture tie-up – Bond Helicopters – the pair have already won their first contract: a five-year deal to support an international oil and gas supplier in the southern North Sea.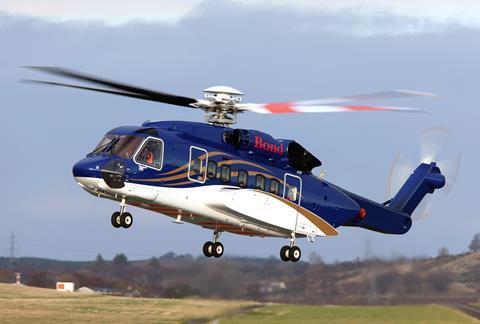 No details of the customer have been disclosed, but it is understood to be Anglo-French oil exploration firm Perrenco; Bristow Helicopters is the incumbent on the contract, operating a fleet of Leonardo Helicopters AW139s from Norwich airport.
Bond Helicopters will provide five rotorcraft for the contract, which is expected to deliver revenues of around £130 million ($147 million) over the five years starting from 1 January 2024.
UK-listed Gama will invest around £3.5 million during the second half of 2023 to stand up the operation, which will lease in the five rotorcraft.
Established in March this year, UK Companies House documents list Peter Bond as the sole shareholder and director of Bond Helicopters. Gama did not respond to requests for additional details of its investment plans.
Under the terms of the agreement, Gama is able to buy out Peter Bond in certain circumstances, or for Bond to sell those shares to his partner.
Gama sees the move as key to growing its rotary special mission business in the offshore and onshore markets.
"[Gama] has enjoyed an excellent working relationship with Bond Helicopters for over 30 years. Having worked closely with Peter throughout that period, I am delighted that he has chosen to align his considerable expertise with those of [Gama] to help us accelerate our growth in this important rotary special-mission sector, both offshore and onshore," says group chief executive Marwan Khalek.
The Bond family's links with offshore helicopter operations stretch back for decades to Management Aviation in the late 1970s in which Geoffrey, Michael and Stephen Bond were directors.
Stephen and Peter Bond later established Bond Offshore Helicopters, which, following a series of acquisitions, was eventually bought by Babcock in 2014.
That business was then divested by the UK plc in 2021. Although CHC Group emerged as the buyer, the business was held at arms' length as Offshore Helicopters pending the approval of UK competition regulators.
However, in June this year the Competition and Markets Authority (CMA) prohibited the acquisition, requiring CHC to sell the business.
It is unclear if the emergence of a new operator in the sector changes the balance of competition in the North Sea such that the CMA's concerns are eased. Equally there remains the intriguing possibility that Bond Helicopters could acquire the business – reuniting Peter Bond with the company he founded.
Peter and Stephen Bond retain an additional aviation interest through their ownership, via their Airline Investments business, of Scottish regional carrier Loganair.

Dominic Perry is deputy editor of Flight International but also contributes extensively to flightglobal.com. Although specialising in the coverage of the helicopter industry, he has written on most topics in aerospace – be they commercial, defence or business aviation. In addition, there has been an increasing focus on the decarbonisation of the industry and zero-emission flight initiatives.
View full Profile