Brazil's navy has inducted its first of an eventual three Airbus Helicopters H135s, which will see use on operations in the Antarctic region.
Designated the UH-17 in Brazilian service, the German-built light-twin was transferred to the navy on 28 February.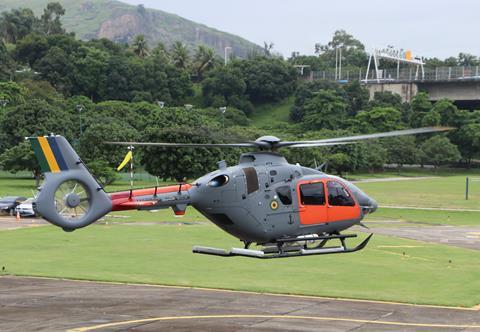 Airbus Helicopters' local subsidiary Helibras performed the completion of the green aircraft at its Itajuba facility.
Missions will include search and rescue and emergency medical services operations. The helicopters are equipped with a cargo hook, emergency flotation system and weather radar; two of the three will be delivered with aeromedical kits.
"The transfer to the operating sector represents the renewal and expansion of the navy's aviation capabilities, especially for the benefit of air operations in Antarctica," says the navy.
The H135s are powered by twin Safran Helicopter Engines Arrius 2B2+ turboshafts, records Cirium fleets data; Pratt & Whitney Canada PW206B3s are also an option on the type.
Brazil will use the new helicopters, acquired for €25 million ($27 million) including training and support, to replace its ageing fleet of Airbus Helicopters AS355s.