Germany has cancelled its long-running acquisition of heavy transport helicopters citing budgetary concerns, leaving the replacement of its fleet of elderly Sikorsky CH-53GA/GS models in limbo.
Berlin had been planning to buy an in-production helicopter for the requirement, with the contest coming down to a two-way fight between the Boeing CH-47 Chinook and Sikorsky CH-53K King Stallion.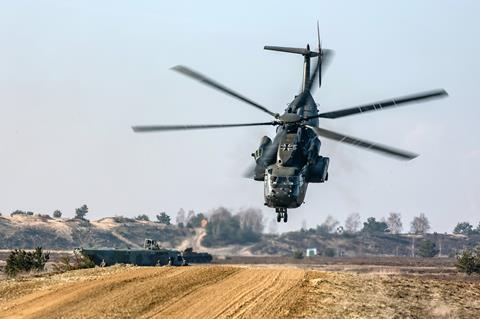 Although a down-select decision was expected this year, the German defence ministry has now pulled the plug.
"As part of the ongoing award process, it was recognised that the project would be unlikely to be realised within the allocated budget while meeting all requirements," it says.
Assessments of the two submitted offers concluded that they were "uneconomical", leading to the termination of the process.
Germany had expected to sign a contract with its preferred bidder in 2021, but given the delay it says this now "cannot therefore be achieved".
Nonetheless, Berlin still aims to replace the CH-53GA/GS fleet in a "timely manner", it insists, but notes that the acquisition will be "continued with changed specifications".
The current helicopters will reach the end of their operational life in 2030, the defence ministry adds.
Although both airframers had lined up German companies to support their bids – including Diehl Defence, engine specialist MTU and Rheinmetall – the bulk of the work was to be carried out in the USA.
Germany had previously indicated it was seeking 40-60 helicopters under the requirement.