German federal police aviation units have moved a step closer to fielding an advanced helmet-mounted display (HMD) system across their Airbus Helicopters H215 fleet.
Normally restricted to military operators, once certificated, the employment of the Universal Avionics SkyVis system by the Bundespolizei will represent the first civilian use of such technology.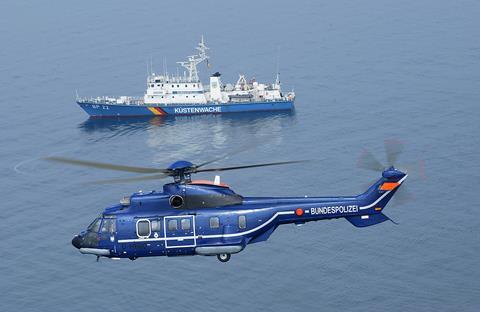 Tests conducted in partnership with Universal Avionics, MRO provider Heli-One (Norway) and the Bundespolizei have successfully validated the system, says Universal, part of Elbit Systems.
This should lead to European Union Aviation Safety Agency supplemental type certification for the upgrade later this year.
The SkyVis suite comprises a set of helmet-mounted monocle-type displays used for the visualisation of primary flight information. It can used during the daytime or in conjunction with night-vision goggles.
Separately, Universal has been selected by Airbus Helicopters to supply its EVS4000 multi-spectral Enhanced Vision cameras for installation on eight new H145s destined for the Bavarian police.