Beijing's transport ministry has ordered six Leonardo Helicopters AW189 super-medium twins to serve with its maritime search and rescue (SAR) division.
Deliveries of the six rotorcraft will be completed by 2023, and they will by operated by China's Rescue and Salvage Bureau, says Leonardo.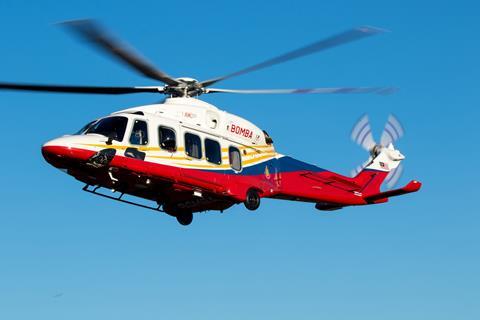 The six helicopters will be deployed "across the coastlines of China," it adds.
The Rescue and Salvage Bureau performs a number of missions, ranging from SAR to assisting in the recovery of sunken vessels and cleaning up oil spills.
The bureau operates 20 helicopters from eight bases along China's coast. Leonardo says that the AW189 will extend the agency's SAR range to a 200nm (370km) radius.
"We are happy to contribute to this crucial life-saving programme of the Ministry of Transport increasing its capabilities," says Leonardo Helicopters chief executive Gian Piero Cutillo.
"The selection of the AW189 will deliver outstanding long range search and rescue in demanding maritime environment conditions. We look forward to working with the operator for the introduction of the new fleet."
The transport ministry order follows a November 2021 order by the Beijing Municipal Public Security Bureau for two AW189s. These two helicopters will mainly serve in the law enforcement role, but will also perform SAR and firefighting work.
Cirium fleets data indicates that there are 73 AW189s in service globally. Bristow Helicopters is the largest operator with 12 examples.