Airbus Helicopters has secured an order for 50 mediium-twin H160 helicopters from Chinese aviation company GDAT, marking the largest civilian order for the type.
The contract was signed on 7 April during a visit to China by French president Emmanuel Macron, says Airbus Helicopters.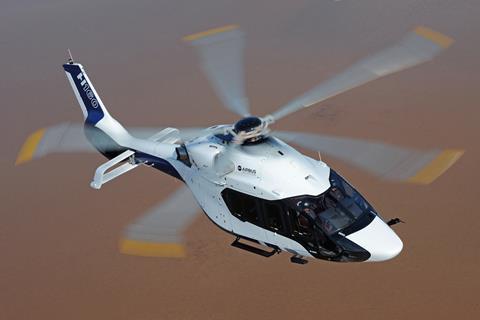 The rotorcraft will be used for missions such as transport to and from offshore energy platforms, emergency medical services, and other parapublic missions.
Airbus Helicopters did not provide a timeframe for deliveries, or the value of the contract. Airbus Helicopters and GDAT also signed a cooperation agreement for support and services for the H160 in China.
"This contract is a great example of the importance of economic and trade cooperation between France and China," says Peter Jiang, chairman of GDAT.
"The innovative H160 is the perfect addition to our fleet and will enable us to continue our success story on the Chinese market that began with our 21 H225 helicopters. We see a lot of potential for the H160 in China, in particular for the energy sector."
Based in Shanghai, GDAT specialises in helicopter sales and leasing.
The H160 has achieved its EASA certification in 2020, but still awaits certification in the USA. In January, Airbus Helicopters chief executive said that US certification could be obtained this year.